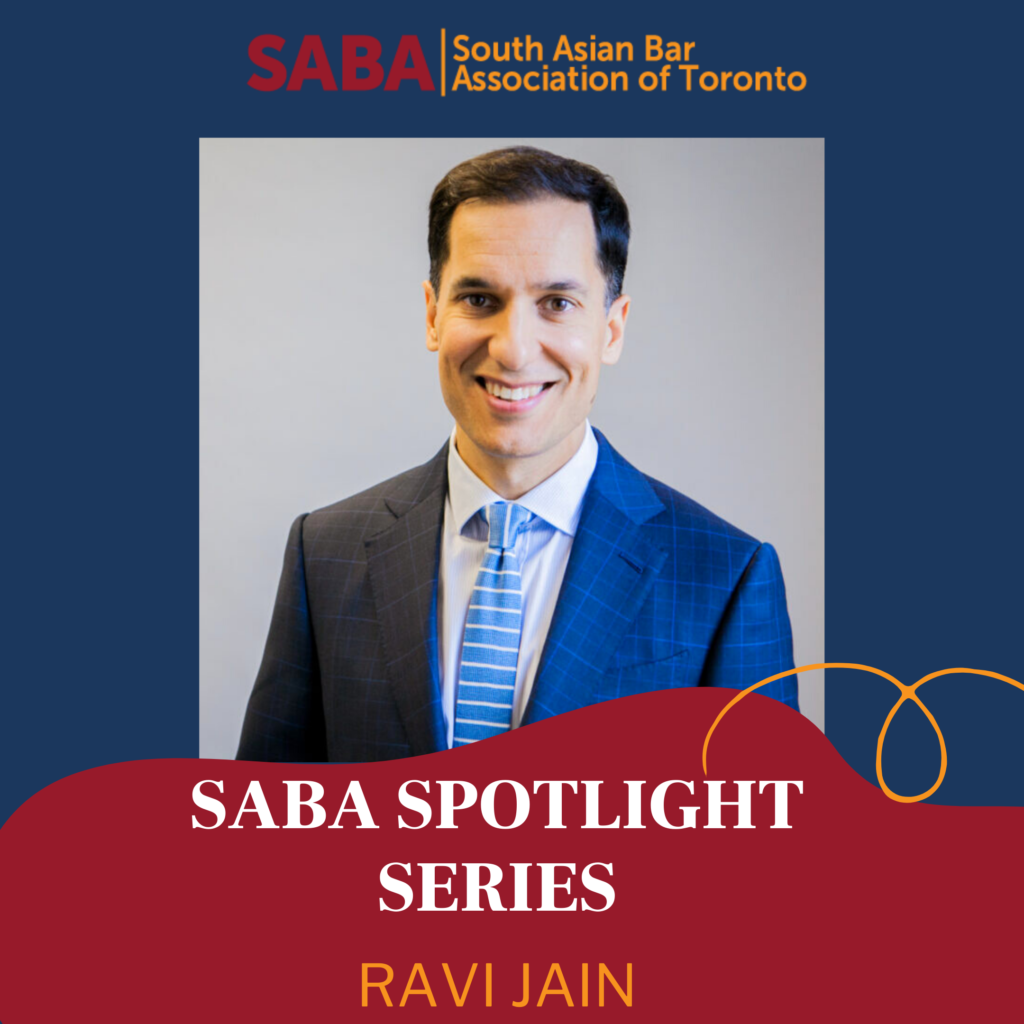 Ravi Jain is the Founder of Jain Immigration Law. He is one of Canada's most recognized immigration lawyers in terms of leadership in the bar, peer recognition for excellence and client satisfaction.
Mr. Jain was presented with the Diamond Jubilee Medal by command of Her Majesty the Queen in recognition of his significant contributions to Canada. Recently, he was selected as "Lawyer of the Year" by Best Lawyers in Canada (the oldest peer-review publication for lawyers) for receiving the highest voter feedback from colleagues across Canada. Who's Who Legal recognized him as a "Thought Leader" which is the top ranking for obtaining "the highest number of nominations from peers, corporate counsel and other market sources." The Canadian Lexpert Directory has selected him as well, which is an "acknowledgement of excellence by a practitioner's own peers and colleagues." Moreover, the prestigious Chambers and Partners, which ranks the world's best lawyers, has repeatedly recognized Mr. Jain's work.
Mr. Jain has over 21 years of practice experience and is among a small percentage who are certified by the Law Society of Ontario as Specialists in Immigration Law. He has been invited to address committees in both the Canadian Senate and Canada's House of Commons as a subject matter expert in immigration law on several occasions. Mr. Jain was instrumental in founding the Canadian Immigration Lawyers Association (www.cila.co).
His full biography can be found here: https://jainimmigrationlaw.com/lawyer/ravi-jain/
This year marks Ravi's second year on the SABA board. Ravi regularly visits India and enjoys travelling there. He is a fan of Akshay Kumar movies.
1. What drew you to immigration law? Did you imagine doing anything else?
I love the people and the stories the most. It's extremely rewarding to assist people with what is the most important matter in their lives. Clients have spontaneously hugged me when receiving a 'bench positive' decision at the end of litigation and reuniting families and facilitating smooth corporate transfers provide much satisfaction. Lately, I've been active leading the Canadian Bar Association Immigration Section and setting up a complementary new immigration lawyers' group: the Canadian Immigration Lawyers Association (which will provide timely comment to Ministers, civil servants and the media, effectively build coalitions, do test litigation, operate as a think-tank and engage in lobbying).
2. How did you come to be involved with SABA?
Many years ago I started by attending some networking events and then signed up as a mentor and then I requested that the Advocacy Committee endorse a position I'd developed for the Canadian Bar Association which the Board at the time approved. It's an honour to now sit on the Board.
3. Do you have a favourite memory from being part of SABA?
The in-person galas of course! The best part is meeting friends over cocktails prior to the main event. Lately, I've enjoyed getting to know some very talented fellow Board members.
4. What do you like to do during your down time to relax?
I enjoy travelling with my wife, playing with my kids and relish tennis followed by a drink catching up with friends.
5. What's your favourite South Asian snack?
Panipuri
6. Who or what inspires you?
My father inspires me. He was a professor and was invested into the Order of Canada for his ground-breaking research citing the benefits of diversity in employment and the importance of removing non bona fide job requirements. He was very active in the community, establishing a Mayor's Race Relations Committee that was replicated across Canada and also at the federal level as Commisisoner of the Canadian Human Rights Commission and internationally, developing employment equity policies at the end of apartheid at the request of President Mandela's government.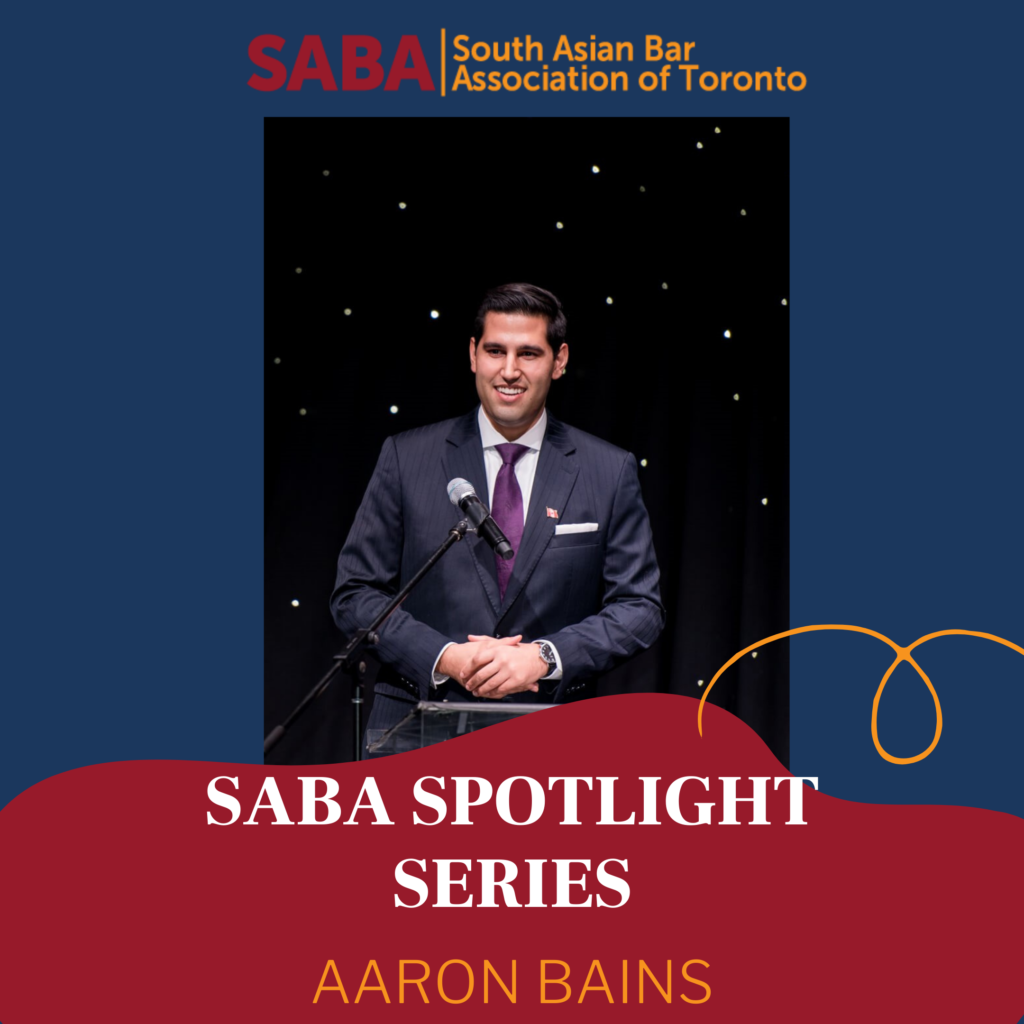 Aaron Bains is a South Asian lawyer and partner at Aird & Berlis LLP. He has a business law practice, which includes mergers and acquisitions, debt and equity financings and advising high net worth individuals and family offices. Aaron is from Surrey, British Columbia, where he grew up in a Punjabi family.
Aaron initially began working with SABA Toronto several years ago as a volunteer, eventually being appointed to the Board and thereafter holding the roles of Treasurer, Vice President and President. He is currently the Past President of SABA Toronto and Secretary of SABA North America.
Aaron spends his free time cooking and training as a classical Indian vocalist who also plays the harmonium. In addition to English, Aaron speaks Punjabi, intermediate French, and a little Italian.
1. What do you enjoy about your practice?
I enjoy problem solving and helping our clients effect their transactions. A significant amount of my work is in the venture capital area. As such, I am often asked to come up with creative solutions to overcome small and large barriers during a deal. This can mean finding creative ways to provide security and assurance to a lender or investor in an otherwise risky and early stage investment to helping warring parties agree on middle ground solutions where their interests differ.

2. What are some moments in your career that you are proud of?
In the context of my professional work, I am most proud of how much I have learned and continue to learn on a daily basis and the positive impact that our work can have for clients. Although I work in the area of corporate law, it is not all dollars and cents only. I often help clients transition their businesses to the next generation, build and grow those businesses and one day sell them to see the profits of their decades of labour. Outside of work, I am proud of the time that I have been able to dedicate to giving back to my community – through SABA and as a volunteer at several non-profit organizations in Toronto. This year I was named the Leukemia & Lymphoma Society Man of the Year after my team and I fundraised over $115,000 for blood cancer research.

3. What is your favourite moment from serving as SABA's president?
I love attending the SABA Gala – it takes a lot of work to put that event together. The gala committee is always working very hard up to the last minute. However, there is nothing better than seeing our diverse and exceptional bar present and having a good time at the best legal gala in the city. Recently, I was also exceptionally proud of our conference on Anti-Black Racism. We touched on important topics and, we were later told that the conference sparked discussions at attendees' workplaces on issues of racism.

4. What is your favourite South Asian snack?
This is very hard but I would probably say sirnee (it is a fried noodle that is broken up for munching on – ideally with a cold beer).

5. What's something unique that you have learned from your own practice that you can share with other lawyers?
Although we think that our practices are very different, the common theme is that two parties failed to communicate their expectations and as a result they have now come to a conflict. If we can start thinking from the perspective of our client and the other party and each of their expectations, then we will start to be able to effectively communicate, draft documents and complete transactions with a goal to meeting those expectations and often with less cost to the client.