Advocacy is the touchstone of SABA Toronto's mission and is important to our members.  At SABA Toronto, we advocate for disenfranchised minorities, inside and outside of the legal profession, students and foreign legal candidates.  
It is our goal to ensure that ad hoc issues affecting our members and minorities at large are addressed and brought before the appropriate legal or regulatory body responsible for such matters.  
In this effort, SABA Toronto regularly meets with members of government, the judiciary and business community to bring forward important issues such as judicial diversity, prejudices to racialized licensees and barriers faced by female licensees.
Pro-Bono / Community Outreach Committee
The Pro-Bono/Community Outreach Committee (the "PBCO") is aimed at addressing access to justice issues for racialized minorities in Toronto.  To this end, the PBCO seeks to partner with social justice organizations that serve racialized minority populations to offer seminars, clinics and presentations on a variety of legal topics.   
If your community organization would like to discuss partnership opportunities or if you are lawyer who would like to get involved in this initiative, please contact sabatoronto@gmail.com.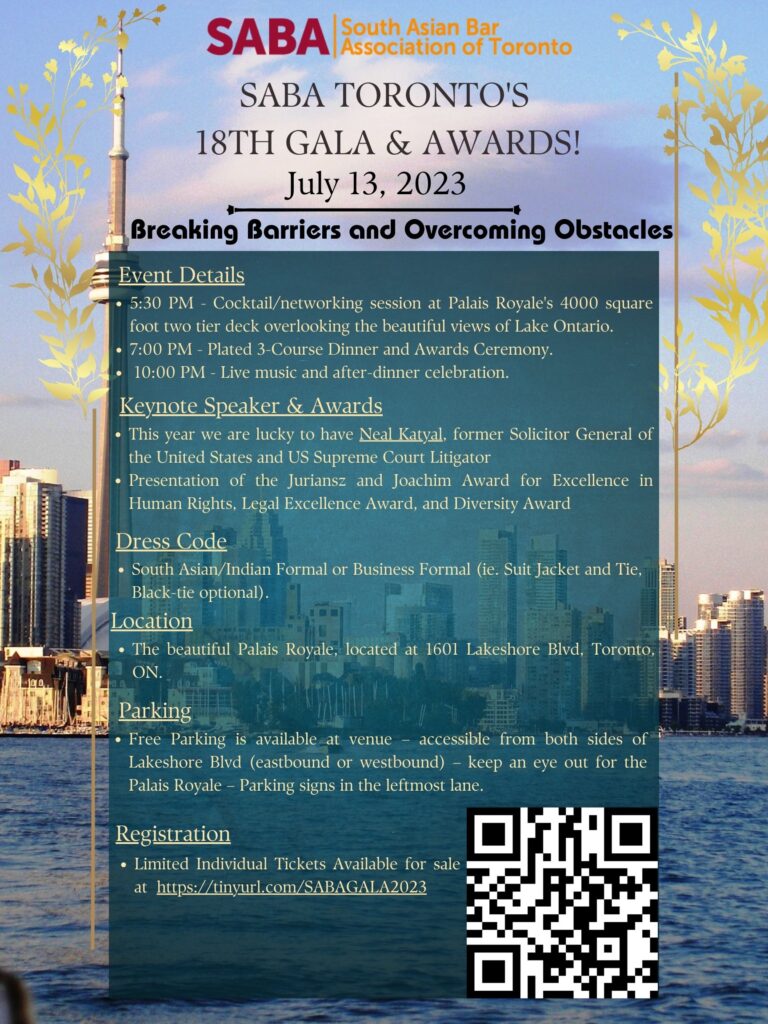 SABA, the largest diverse bar association in Canada – is holding its Annual Awards Gala on Thursday July 13, 2023 at 5:30 pm at the Palais Royale 1601 Lake Shore Blvd W, Toronto, ON M6K 3C1 .
This Year's Gala will be themed "Breaking Barriers & Overcoming Obstacles" and we are once again holding the Gala as a hybrid indoor/outdoor event. Some key highlights of this year's gala:
We will have an extended cocktail/networking session at Palais Royale's 4000 square foot two tier deck overlooking the beautiful views of Lake Ontario.
Following this, we will proceed to a plated 3-course dinner, and awards ceremony indoors in the Palais Royale Ballroom, accompanied by live music
This year we are lucky to have Neal Katyal, former Acting Solicitor General of the United States and esteemed litigator with one of the largest Supreme Court litigation practices in the world.
Following the Awards Ceremony we will once again have an after-dinner celebration with live music.
Due to unprecedented demand – Ticket to this event are SOLD OUT
If you are interested in becoming a gala volunteer please email sabatoronto@gmail.com
2023 SABA Mentorship Program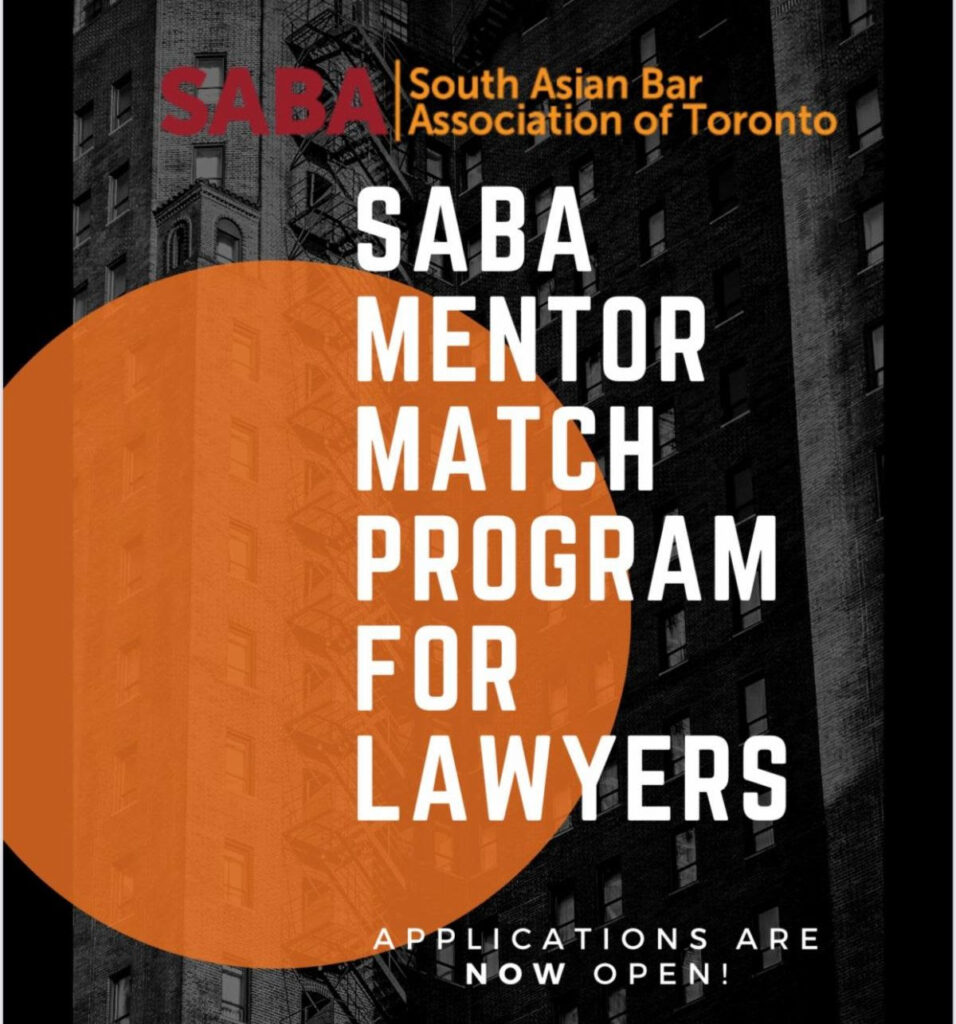 SABA is pleased to offer its members the SABA mentorship program for another year. The SABA Mentor Match Program for Lawyers is a mentorship program that aims to pair young lawyers with senior lawyers who can help provide guidance and support to new lawyers entering early practice or any lawyer who feels they can benefit from mentorship (including those entering a new practice area or field).
The SABA Mentor will:
Ease the mentee's introduction to the profession/practice area and act as a sounding board for professional development issues that the mentee seeks guidance on.
Explain the inner workings of their practice area and provide coaching and advice on the requirements for success such as: career and identity development, client development, practice and file management, profile building, and client communication.
Meet regularly with the mentee and keep the lines of communication open.
The SABA Mentee will:
Initiate contact with their mentor and set an initial meeting time/place.
In consultation with the mentor, set up an agreement for the scope of the mentor-mentee relationship.
Eligibility:
All mentors and mentees must be SABA Toronto members and lawyers of good standing in Ontario.
Mentors must be at least a 5th year call.
Mentees can be any year of call.
Term & Schedule:
The Mentorship Program term runs from January 2023 until December 2023. Mentors and mentees will be matched on a first come first serve basis.
Please note that we cannot guarantee that all mentees will be matched with a mentor. However, we will do our best to accommodate all mentee applications.
Once applications close, the information from the Google Forms will be transferred to an excel spreadsheet and mentors and mentees will be matched based on their commonalities. Mentees may only receive one mentor. Mentors may apply to be matched with a maximum of 2 mentees.
It is recommended that mentees reach out to mentors once per month, but both mentors and mentees can indicate their available time in their application. It will be required that a mentee responds to all of their mentor's communications. If a mentor submits a complaint to the SABA Mentoring Committee, the mentee will be unable to apply in subsequent years.
Once a Mentor has submitted an application and indicated that he/she wishes to remain in the roster, their contact information will remain in the SABA roster for the next few years.
All previous Mentors and Mentees should re-enroll using the link below if they would like to be paired again in this iteration of the program.
If you are interested in learning more about mentorship please email sabatoronto@gmail.com
Social and Networking Committee
The Social & Networking committee organizes and promotes social events to encourage community building and networking opportunities amongst the membership.
The sponsorship committee is responsible for ensuring that SABA Toronto has the means to achieve its goals and provide members with important resources and professional content.  Our sponsorship committee can help you build a sponsorship package that is unique and which creates a mutual partnership between your organization and SABA Toronto.
Please reach out to us at sabatoronto@gmail.com to learn more about sponsorship opportunities.
SABA Women's Committee is dedicated to creating a safe space for racialized licensees that identify as female and all those who support them. The committee aims to hold events that address the unique barriers faced by South Asian female lawyers and advocate for women's issues not only in the Bar, but in the community as whole. The committee focuses its efforts on providing female licensees opportunities to network, learn and grow as professionals as well as on giving back to the community via advocacy work targeting issues impacting women in South Asian communities.
If you would like to get involved in this initiative, please contact sabatoronto@gmail.com. 
SABA Young Lawyers' Division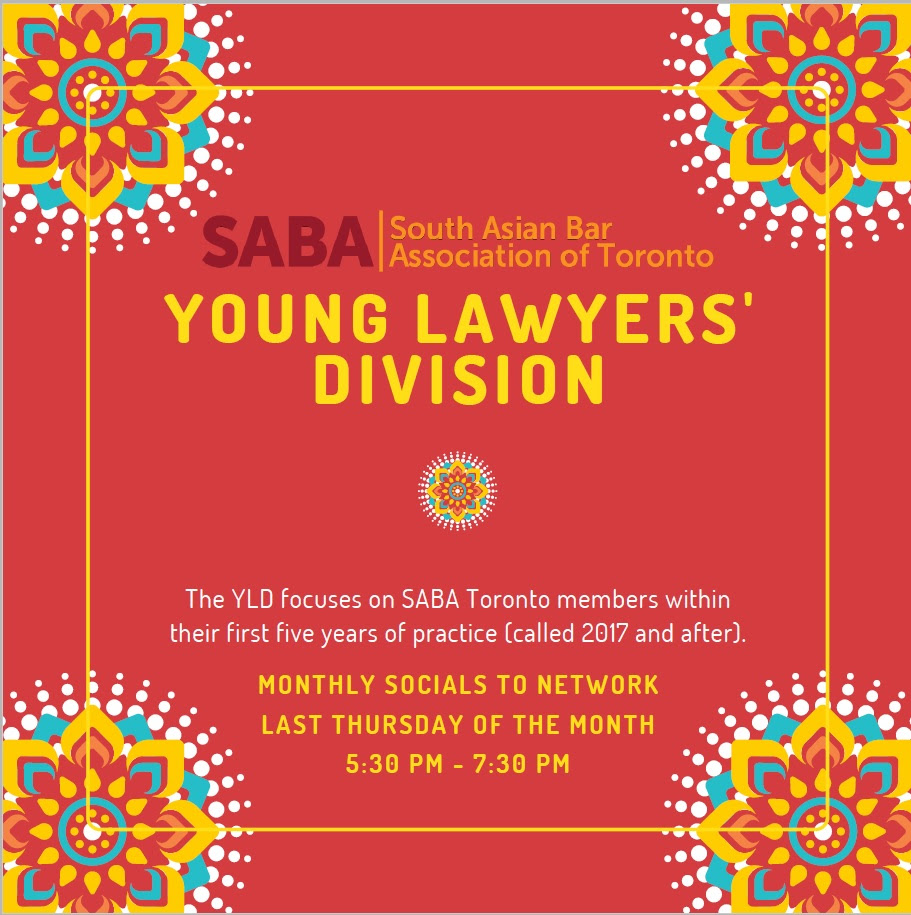 SABA Toronto is cognizant that the pandemic has diminished networking and mentorship opportunities for newly called lawyers. In order to create a meaningful and connected network of young lawyers, SABA Toronto's Young Lawyers' Division will focus on SABA Toronto members called to the bar within their first five years of practice. In addition to the SABA Toronto 2022 Mentorship Program, the SABA YLD will offer opportunities for sharing shared experiences, providing opportunities for candid discussion, and gaining insightful mentorship among junior South Asian lawyers. As SABA YLD members are likely to grow together professionally, this network should serve as a career-long resource.
The Young Lawyers' Division currently hosts a monthly social open to SABA Toronto members within its mandate (i.e., members called to the bar during or after 2017). If you are interested in joining the YLD and participating in monthly networking events please register using the form below. To become a SABA member please join at this link. For any other questions or if you are interested in volunteering for the YLD please contact Sahil Kesar at sahil.kesar@blakes.com. To Register click here: