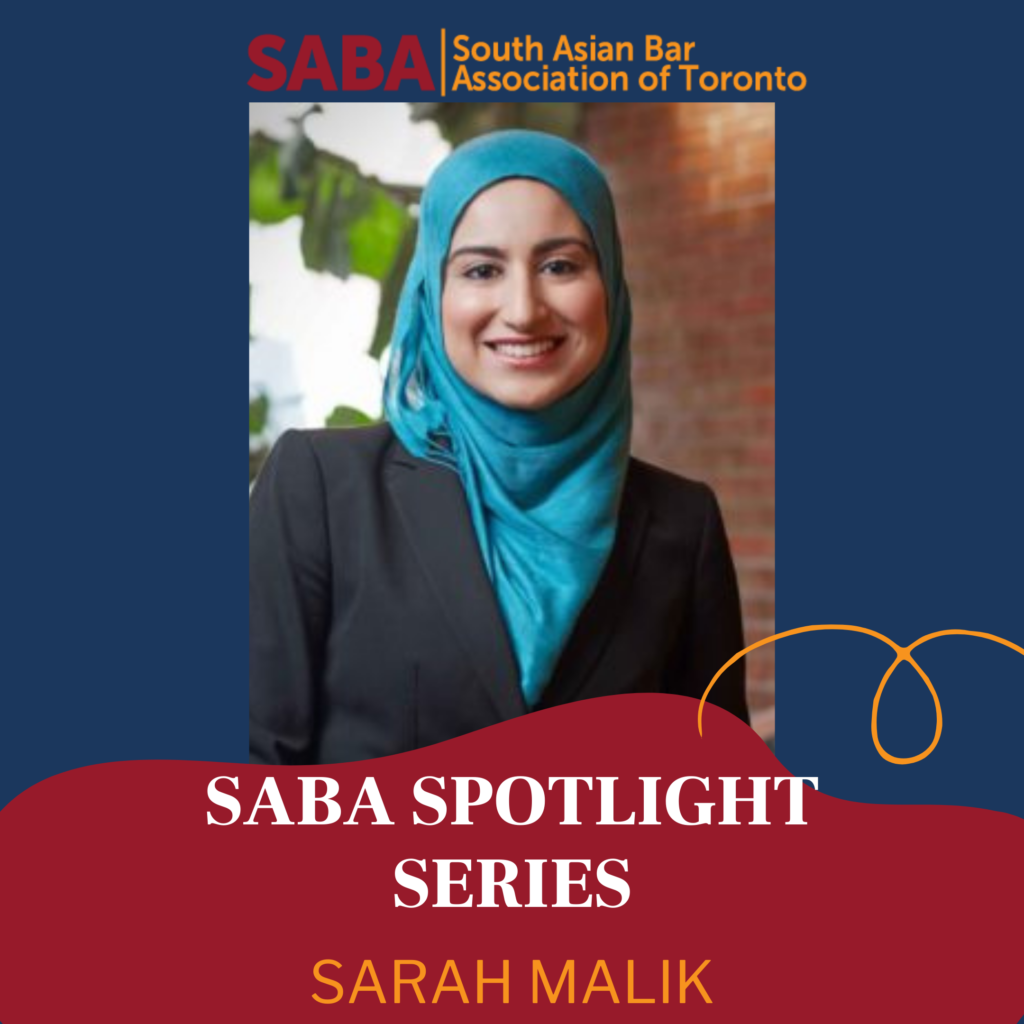 Sarah Malik is an Assistant Crown Attorney with the Ministry of the Attorney General. She prosecutes a variety of offences under the Criminal Code of Canada. Prior to that, she was a criminal defence lawyer with Hicks Adams LLP where she successfully represented clients facing a variety of offences in the Ontario Court of Justice and the Superior Court of Justice of Ontario. Sarah obtained her Juris Doctor from the University of Ottawa and her Honours Bachelors of Arts from York University. She has a passion for social justice and is an advocate for diversity, equity, and opportunity in the profession and society at large.
Sarah grew up in Canada from the age of 11 years. Sarah enjoys South Asian food, particularly Haleem, which is a savory stew consisting of meat, lentils, spices, and herbs. In addition to English, Sarah is fluent in Urdu and can understand Hindi and Punjabi.
What attracted you to criminal law?


I was not always sure that I wanted to be a lawyer, let alone a criminal lawyer, but it is one of few professions I considered seriously. I wanted to work with people and advocate for them so I wanted to be in a social justice field. I learned from participating in a mock trial competition in high school and then later mooting in law school that I wanted to be in the courtroom. Hence, I ended up pursuing that passion. I have been blessed and fortunate enough to have received opportunities that have allowed me to continue on this career path. I like that as a criminal lawyer, I can advocate for people, fight for their rights, and can have a direct impact on their everyday lives.
What are some moments in your career that you are proud of?


I find the quiet moments of the day to day work the most rewarding. Any day where I can either help a client who had their life turned upside down as a result of criminal charges or assist a complainant or the public to tell their evidence in court makes the work meaningful. If I can help any person get through a difficult day, then that day is worth it. The bigger precedent setting wins and jury trial wins do matter for sure and are a great dose of encouragement and pride we all need from time to time, but it is these quieter moments involving a lot of emotions, high stakes, and a variety of challenges that also make the career worthwhile.
What is your favourite memory from being part of SABA?


Being a part of the SABA board has been a wonderful experience. Organizing the 2019 annual gala has been one of my favorite memories. It was the first SABA gala that I planned as a member of the board. It was rewarding to see the long nights and the efforts pay off with a wonderful event that brought so much of the legal community together. 
When the pandemic hit in early 2020, I was directly involved in transitioning SABA events and advocacy efforts to a greater electronic format without affecting our ability to be a voice for the membership. Being able to do this fast, effectively, and while helping the organization adjust to the change caused by the pandemic was rewarding. This laid the groundwork for SABA Toronto to continue to be a leading legal diversity organization in Canada.
If you weren't a lawyer, what else would you be? 
I may have become either an academic or a journalist. These are professions I have considered aside from law. I enjoy the process of taking the time to research a topic and present a story. I suppose, in a way, that is what lawyers do everyday, but to approach it from another angle continues to intrigue me.
What is the best advice you can give about the practice of law? 
Be authentic and the rest will follow. Never compromise your principles, ethics, faith, and well-being for anything. There will be challenges and they will come from different angles. Hard work as well as a good support system (whether from colleagues and/or a trusted group of legal and non-legal friends and/or family) is absolutely vital in this profession. Things will unfold and happen exactly as they are meant to.