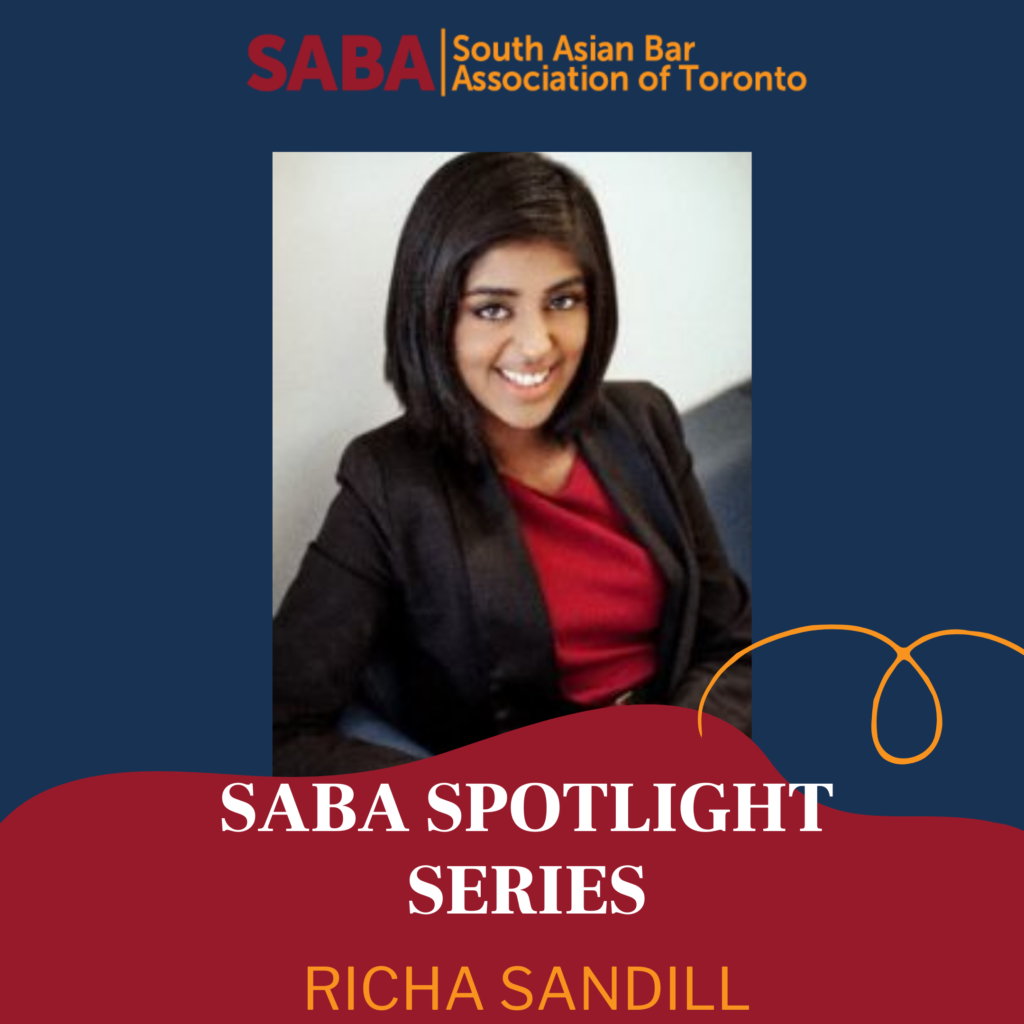 SABA Spotlight Series – Richa Sandill
Richa is an employment, human rights and litigation lawyer, who currently practices exclusively in Applicant-side human rights law as Legal Counsel at the Human Rights Legal Support Centre. She became a lawyer in Toronto after completing her law degree in England and undergoing the National Committee on Accreditation ("NCA") process. Richa's parents moved to Canada from the northern Indian state of Uttar Pradesh. This year marks Richa's fifth year with the SABA board. She has proudly served on SABA's Women's Committee, including as this year's Co-Chair for the Women's Committee, as well as the Advocacy Committee, Social Media and Website Committee and the Gala Committee since her election to the Board. 
In her spare time, Richa enjoys watching Bollywood movies, baking desserts, and training in classical Indian dance. Despite the pandemic, Richa has continued her dance training via Zoom. In addition to English, Richa speaks Hindi and Urdu. Her favourite South Asian food is seekh kebab and naan, with paneer tikka coming a close second.
1) Is your current career path as you originally intended?
I'm honestly happy to say it now is, but that definitely hasn't come without its twists and turns. I entered law with a passion for social justice, and in particular for low income and racialized communities. I even remember naïvely telling a friend during the NCA process in 2013 that I wanted to be a "human rights lawyer" without actually knowing fully what that entailed. I'll never forget that friend's quizzical look when they told me, very gently, that based on their experience this would be a very hard career to pursue given that there aren't a lot of opportunities to practice exclusively in human rights law. That turned out to be helpful advice since it really made me think practically about my aspirations. I realized that human rights law is a very big part of employment law, another area that I have since become very passionate about. As such, I threw myself into trying to get into employment law while completing my NCA exams. I went on loads of informational coffees and attended every networking event I could find at the time. It took a while, but that's what led me to both my first job in a boutique employment law firm, as well as to SABA. Even then, it took a few years in private practice before my practice could become completely about serving and advocating for marginalized communities. 
I took a leap of faith in my third year of practice and moved from private practice to the legal clinic system. I practiced employment and human rights law at Scarborough Community Legal Services for almost two years, getting to do some amazing work along the way while serving a vibrant and incredible community. When my contract there ended, the wonderful opportunity arose to join the Human Rights Legal Support Centre last year. And now, I am a full-time human rights lawyer after all these years!  I still pinch myself sometimes. 
2) What are some moments in your career that you are proud of?
I recently won a case at the Human Rights Tribunal of Ontario dealing with discrimination on the basis of family status discrimination – knowing that that case is going to hopefully be helpful for so many other working parents that are stuck during the pandemic reinforces for me why I do what I do. Beyond that though, I just feel proud to be able to do the work that I do every single day. My job involves a lot of emotional, high stakes situations where clients can often be vulnerable due to disabilities, language barriers, or even toxic situations like harassment in the workplace. I am proud when I'm able to get someone out of that type of difficult workplace situation or help them understand that they have rights at work or under the Human Rights Code that they might not have even realized or enforced. 
The big wins matter, sure, but it's the small moments that stay with you the most – like how a non-English speaking, South Asian client for example once insisted that they wanted their young children to come and meet me so that they could see what someone that looks like them could do one day. Or when survivors of sexual harassment in the workplace have thanked me for believing their story and representing them with dignity after employers had repeatedly dismissed their accounts. 
3) What's your favourite memory from being part of SABA?
There's so many! From getting to speak with Jasmine Singh, my amazing Co-Chair of the Women's Committee, at a roundtable with the Prime Minister this past November, to the late nights spent planning our galas before COVID, to my first SABA North America conference in Atlanta in 2019, and the wonderful relationships I've built with many former and current Board members and SABA members over the years. It's been such a journey and has become a big part of who I am as a lawyer. Perhaps what I'll always remember most is the first gala I was part of planning in 2017 on my first year on the Board. I had been part of the planning committee and had seen for the first time the amount of work that goes into getting everything right. Seeing that come to fruition that night was an amazing feeling. I'll never forget the energy in the room in between speeches – the whole room was buzzing! No one could stay at their table. Everyone simply had to get up to greet their colleagues and network. It was a testament to the amount of work that the Board puts into the gala every year, and the way that SABA can bring together the legal community.
4) If you weren't a lawyer, what else would you be?
I have idolized Bollywood actresses like Madhuri Dixit since before I could remember, so if I could, I would say I'd want to be her! She's been my direct inspiration for wanting to learn kathak. If not, I could see myself as a filmmaker. In my non-lawyer life, I'm very passionate about movies, particularly given how much I grew up watching Bollywood movies (and admittedly still watch). I also think that there still aren't enough films or TV shows in the mainstream that realistically reflect or represent the lives that we grew up with as South Asians or children of immigrants. So, if I could have been a filmmaker, that's probably what my focus would have been. But I'm very much happy as a lawyer!
5) What advice do you have for young lawyers? 
Make sure the path you take is authentic to you. In your early years, and especially in this job market, it can be tough to feel like you have control over your career and where you feel like you can go. But I promise you that if you do have an area of law or a kind of practice that you really want, it's worth going for. Same goes for if you want a specific kind of work environment or you know that things like work-life balance are important to you. I've found that there's no such thing as a generic "right" path in law. There's as many people who are happy on Bay Street as there are in places like government or the clinics – if one way feels more authentic to you and what you want, then that's the "right" path. You can make it happen even if it doesn't feel like it sometimes. The happiness that you'll get from getting there and getting to do what you love is worth it all. 
Written by: Vipal Jain