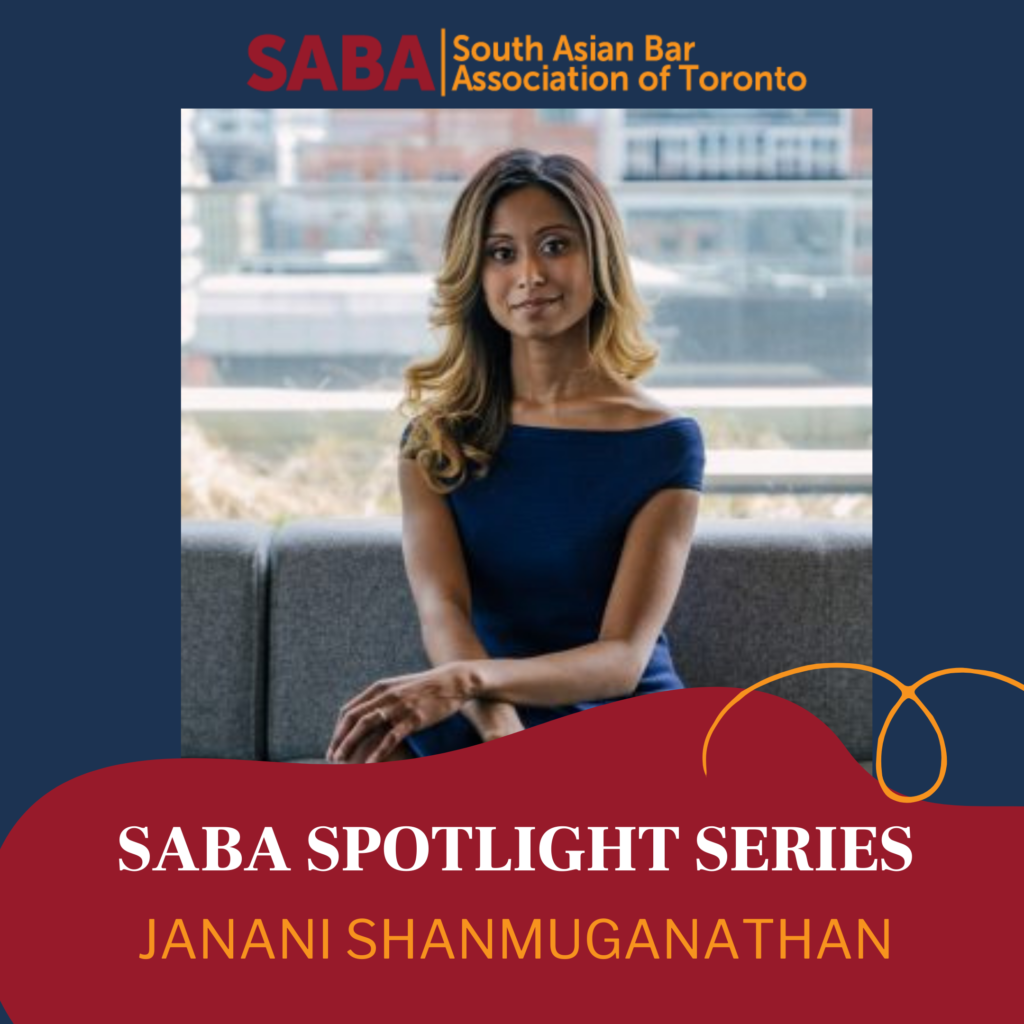 Janani Shanmuganathan is a criminal defence lawyer of Tamil heritage. Born in Sri Lanka, Janani moved to Canada at the age of three. She co-founded Goddard & Shanmuganathan LLP, a litigation boutique that specializes in criminal law and professional regulation. Janani has argued almost 40 appeals at the Ontario Court of Appeal. 
Janani is a champion for diversity in the legal profession. In addition to being a SABA board member, she is vocal about the struggles of being a lawyer of visible minority. Last year, Janani was awarded the Precedent Setter Award, which recognizes early-career lawyers who have demonstrated excellence and leadership in their practice and their community. 
Outside of the courtroom, Janani is trained in bharatanatyam, a form of classical Indian dance. 
1) What attracted you to become a criminal defence lawyer?
For me, being a criminal defence lawyer is a calling. I don't really know what first attracted me to it, I've always just viewed it as something I was meant to do. It is a hard and stressful job, but an extremely important one. And it is immensely rewarding. I feel a sense of pride that people choose me to be their advocate and as the person to safeguard their liberty. 
2) Why did you start your own firm?
I had reached a point in my career where it made sense to be my own boss. I already had my own clients and was running my own files. And having my own firm means I have the freedom to pick and choose what cases I want to take on and affords me the flexibility to balance work and family.
3)What are some moments in your career that you are proud of?
More than individual moments in my career, I am proud about my career as a whole. I am proud that despite the immense stress that accompanies being a criminal defence lawyer, the microaggressions I have faced being a woman of colour, and my own feelings of imposter syndrome, that I am still in this profession. It is so important for racialized students in law school to see racialized lawyers still practicing law. Representation matters so very much. 
4)What's your favourite memory from being part of SABA?
When I first joined SABA, my personal goal was to help SABA with their inaugural intervention at the Supreme Court of Canada. It was really neat that I was able to achieve that goal in the R. v. Chouhan appeal. As an intervener we only had five minutes for oral argument but we made those five minutes count by talking to the SCC about the lived experiences of racialized people. And although the Court ultimately did not decide our way, those submissions resonated with a lot of people. 
5) What do you think is the biggest opportunity for positive change in the legal profession? 
Diversity and inclusion. The legal profession is changing every day as more and more racialized people join the practice of law. My hope is that as more of us speak out about our experiences – for example, how it feels when people mistake us for the interpreter, or refuse to try and pronounce our names – the profession will change for the better. 
Written by: Vipal Jain