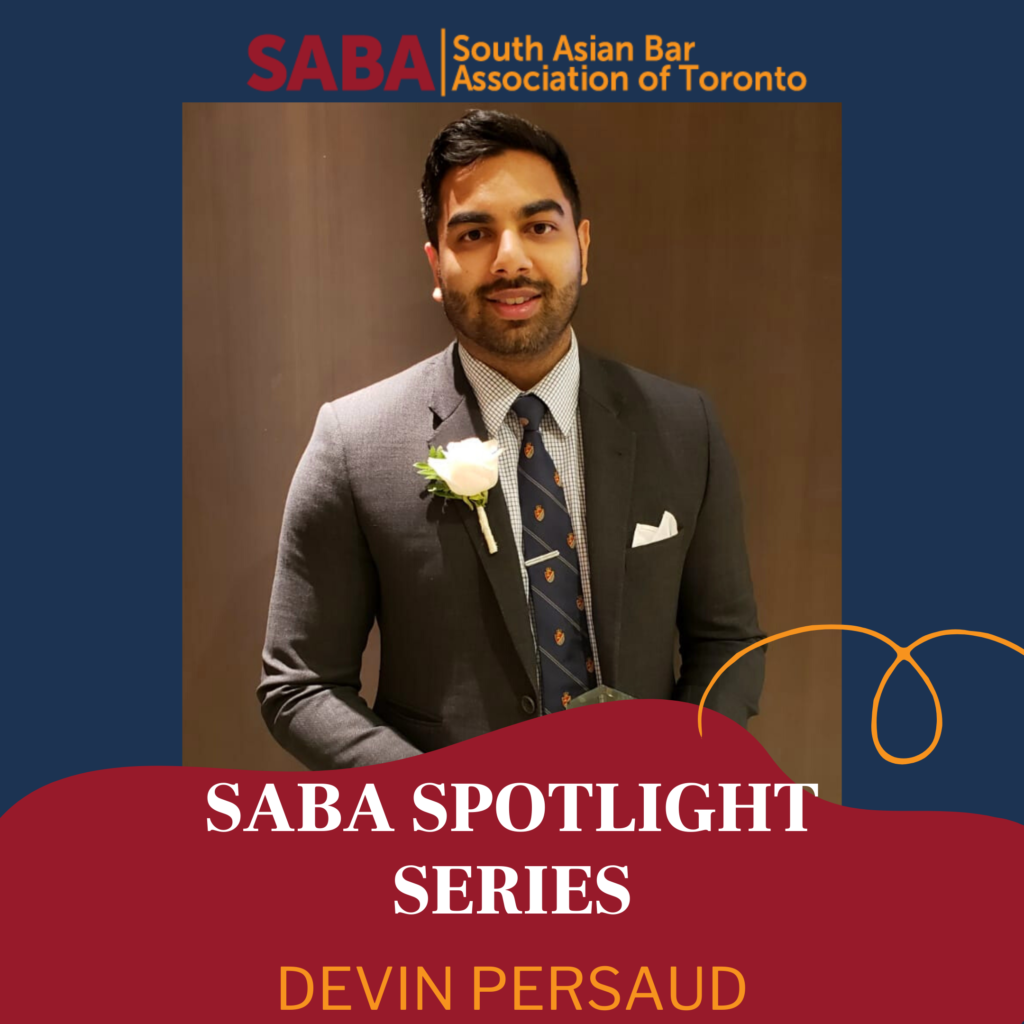 SABA Spotlight Series – Devin Persaud
Devin is a first-generation Canadian lawyer, born to parents who moved to Canada from Guyana. Devin's family has traced the roots of his great-grand parents to Varanasi in India. Devin practices competition and foreign investment law at Borden Ladner Gervais (BLG) LLP – Toronto, the largest full-service firm in Canada.
When he is not busy helping his clients, Devin is an active member giving back to the community through pro-bono and diversity related initiatives. Devin has been a leading member of SABA-Toronto for many years and currently serves as its Treasurer. Devin is also the Vice- President of Membership for the national chapter, SABA North America. Devin has been recognized for his advocacy efforts as one of the youngest recipients of the 2019 Lexpert Zenith Award – celebrating Change Agents in Law and as the 2020 recipient of the FACL Young Lawyer of the Year Award.


1) Is your current career path as you originally intended?

Growing up, I loved shows like Law & Order and J.A.G. So I always thought I would be a criminal litigator. However, when I started articling at BLG in 2014, I was lucky enough to spend several rotations in the Corporate Commercial group and found myself drawn to competition and foreign investment law, which had a perfect blend of litigation and corporate work. I can honestly say that everyday I come into the office (albeit a virtual one these days), I'm always working on something different and always learning. The practice of competition law is so varied, so it's been great acting on files that involve: misleading advertising and marketing law, merger control, foreign investment and national security law, class actions and also criminal price-fixing and bid rigging. So I guess I've worked the criminal law aspect into my practice after all.

2) What characteristics do you think successful lawyers share?

I think the best lawyers are great communicators. They make their clients feel comforted and make them feel that they have all the answers. Speaking with confidence is such an underrated skill in this profession; I think all of the successful lawyers I know have that unshakeable cadence to go along with an in-depth and nuanced knowledge of the law.

3) What are some moments in your career that you are proud of?

Professionally, I feel lucky to have worked on a number of large and exciting files that are constantly making news headlines. I was lucky when I was articling that the Loblaw's and Shoppers Drug Mart merger was occurring and I had first-hand experience of being part of a high-functioning legal team. Honestly, the best moments for me though have been the relationships I've cultivated along the way. I've had such amazing mentors, both in the Competition Group at BLG and through SABA who have really molded my legal experience thus
far.

4) Can you share some moments from your time at SABA that brought you great satisfaction?

There's so many. One of my favourite moments that introduced me to SABA was being presented the Student of the Year award by then Premier Kathleen Wynne in 2014. It was such an amazing experience being at a 400 person banquet with lawyers who all looked liked me. That experience gave me great confidence entering the profession. I have to say that every year the Gala is a highlight – it's the one time of year where the entire South Asian legal community comes together and celebrates/reflects/shares on all of our great achievements. Through the Gala, I've been lucky enough to meet so many accomplished lawyers and pillars of our community. Being able to host the Gala in 2018 was a real dream come true.
As Board Member, some of the most rewarding experiences have come from the creation of the SABA Liaison program and the SABA Student Recognition Award, which provide guidance and financial aid to students who are new to the profession. We've had amazing feedback on how much these programs have helped aspiring lawyers and legal professionals.
Another big highlight for me is always attending the annual SABA North America conference. I've attended the conference in New York and in Atlanta in 2018 and in 2019 before the pandemic hit. The programming and the networking opportunities at the conference are amazing! Toronto has been selected to host the SABA North America conference in 2024, so we are very much looking  forward to showcasing our city.

5) What advice do you have for young lawyers?

Young lawyers may hesitate to join organizations that are diversity-based because they may not want that to be seen as all that defines them. However, in my experience being part of the SABA family has only brought me amazing memories, recognition, and opportunities to work on interesting and fulfilling mandates. Don't be afraid to join organizations like SABA, FACL, or CABL. Don't think that it's going to impact how others see or perceive you. It's only a positive thing for your legal career.
By: Vipal Jain