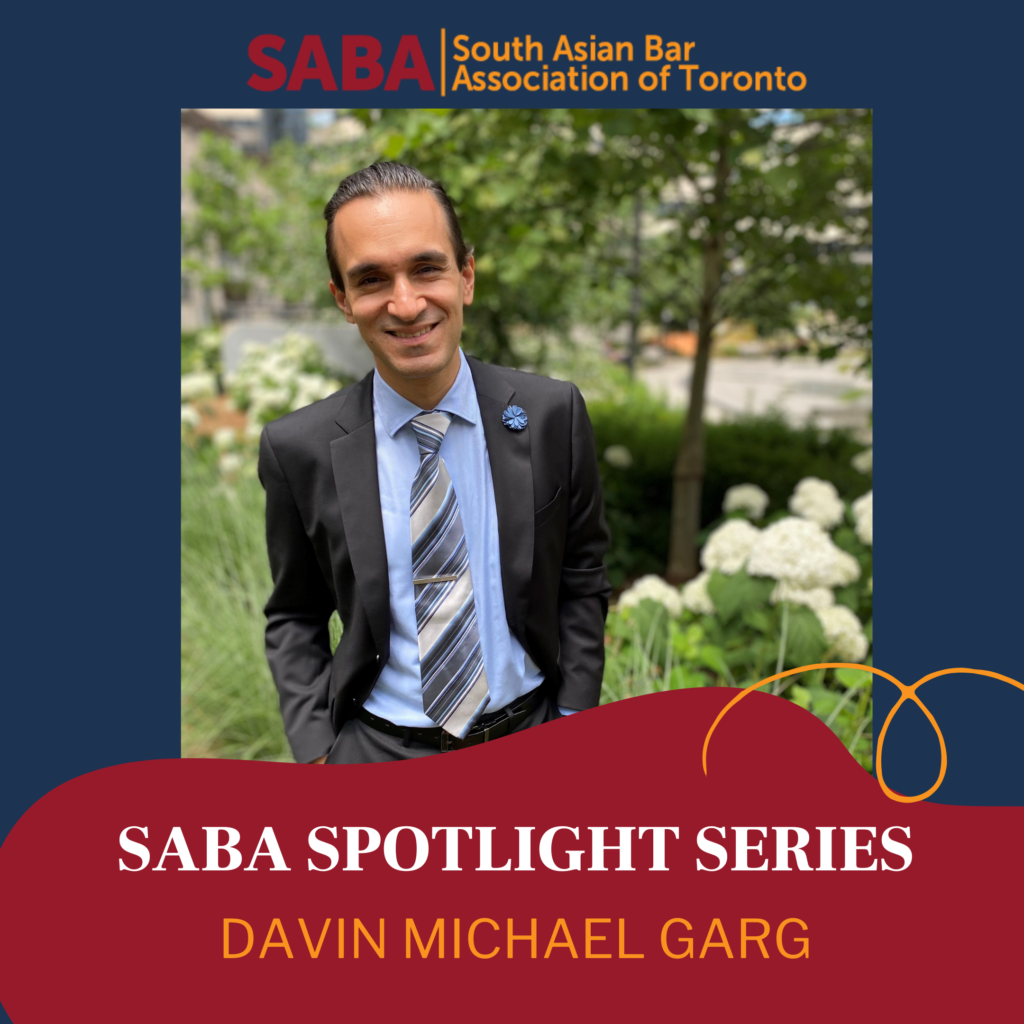 SABA Spotlight Series – Davin Michael Garg
Davin Michael Garg is Crown Counsel with Ontario's Ministry of the Attorney General at the Crown Law Office — Criminal, where he conducts criminal trials and appeals at all levels of court. His specialties include Charter litigation under sections 9 and 10, impaired driving prosecutions, and white-collar and corruption cases. He practices in English and French. He is also a coordinator of the office's articling student program, which includes developing inclusive recruitment strategies.
Davin first got involved in SABA by volunteering in the mentor match program, and he joined the SABA board in 2021. He has since organized multiple social events, including the SABA pub nights, the joint social with CABL and FACL, and the recent event in Peel. He is currently organizing a criminal law evening jointly with The Advocates Society, set for the end of April 2023.
Davin's family hails from Agra, India. He looks forward to returning soon with his two-year old son, who is already an expert at counting to five in Hindi. Davin was born in Vancouver, where he completed his undergraduate degree in business at Simon Fraser University and his law degree at the University of British Columbia.  
What drew you to criminal law? 
The ability to contribute to the pursuit of justice in a tangible and immediate fashion. I previously worked with CTV News in Vancouver, and I was assigned to cover a story at the local courthouse. I was taken by how everyone in the courtroom had an important role to play, and how much the case mattered to everyone involved. The courtroom setting also speaks to me. I appreciate how each party gets a chance to be heard, and not just the loudest or most powerful voices.
What do you enjoy about being part of the SABA board? 
It's incredible the people that I've met, both my fellow directors and the other people that I've met through SABA projects. I joined the board to contribute my perspectives, but I didn't appreciate how much being on the board would also broaden my horizons. My favourite part of our recent Peel social was connecting with new and prospective members and encouraging them to experience all the ways that SABA can enrich their practice of law.
What's your favourite South Asian snack? 
I will say mangos because I have fond memories of my dad espousing their virtues. I remember as a little kid we'd go out in search of the perfect, ripe mango. We were looking for the red, rosy hues, with skin just tender enough to the touch. We'd return home, and he'd peel the skin to prepare the perfect slice. It was the only fruit that he didn't add salt or spices to before eating.
What are some moments in your career that you are proud of? 
I'm certainly proud of the cases that I've argued, especially the ones that involve a jurisprudential issue or where the stakes are high. But the moments that stand out for me are when I feel like I've made a difference or helped someone. As Crown Counsel, we do not measure success on a file by winning or losing. It's about doing what is right and putting the best case forward.
Do you have advice for young lawyers?
Get deep into the forest, but don't lose the forest for the trees. What I mean is that success as a lawyer requires passion for the craft and relentless consumption of whatever is relevant to your case, including the facts and the law. But you can't lose sight of the reality that your ultimate audience, such as a court, requires you to distill all that complexity into something that is manageable. It can be tough for lawyers to find the balance between the details and the bigger picture.