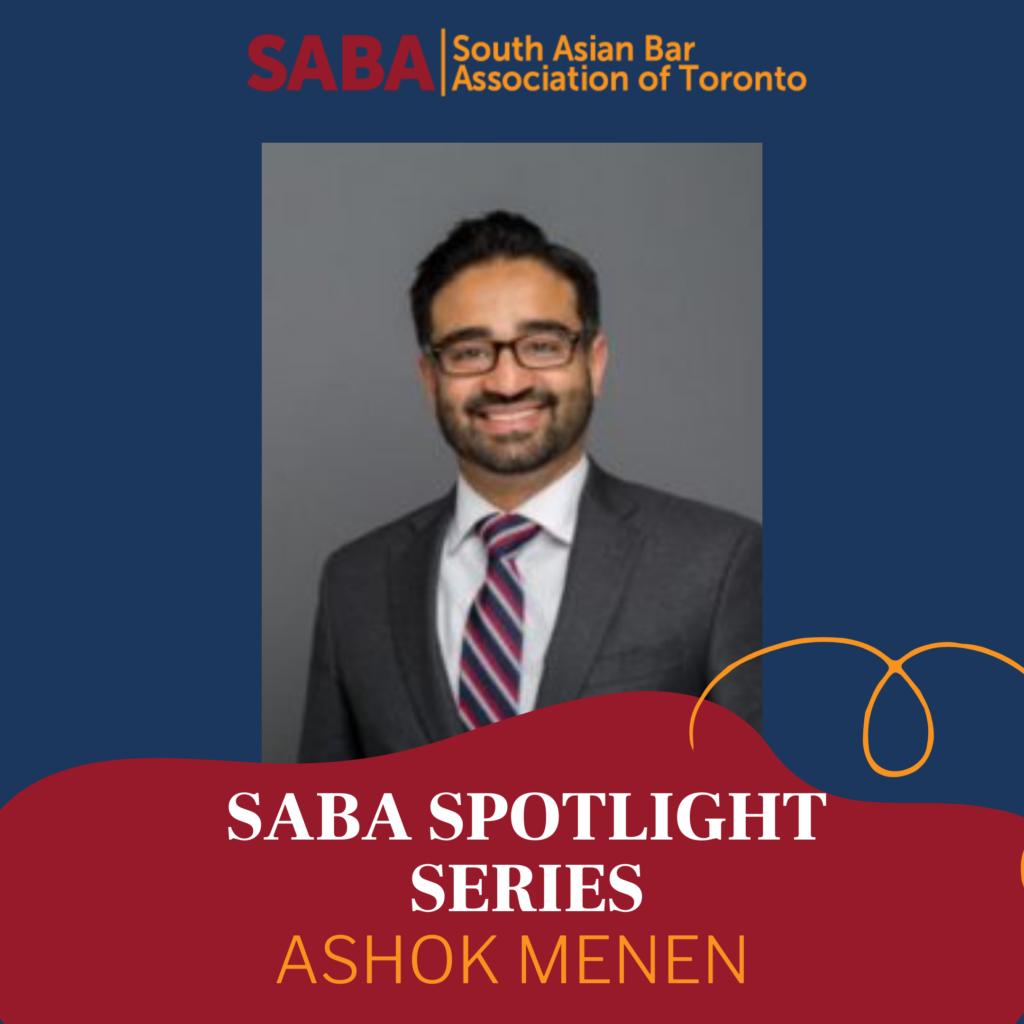 SABA Spotlight Series – Ashok Menen
By Vipal Jain, WeirFoulds LLP
Ashok Menen is a lawyer and a Chartered Professional Accountant (CPA, CA) with a background in forensic accounting. Ashok recently joined the Financial Crime and Investigations Group at Export Development Canada (EDC) as a Senior Advisor. Prior to joining EDC, Ashok served as Senior Investigation Counsel in the Enforcement Branch of the Ontario Securities Commission. Before entering law, Ashok worked as a forensic accountant at a Big Four accounting firm and at a global forensic accounting boutique.
Ashok has been a member of SABA since 2015. This year marks his fourth year as a director. He currently co-chairs SABA's Pro Bono and Community Outreach Committee.
Ashok was born in Singapore and immigrated with his family when he was 10 years old. Ashok is passionate about issues affecting immigrants and in particular, helping newcomers integrate into the Canadian job market and fully leverage the value of the skills and experience they bring.
Is your current career path what you originally intended?
I am not sure I ever expected my career path to take such a circuitous route. I did have aspirations to combine a CA and a law degree. However, I started to have serious doubts somewhere around the second time I failed the Uniform Final Exam (UFE), which was then the final hurdle before being admitted as a Chartered Accountant. Luckily, I eventually passed and was able to go to law school in my 30s; almost a decade after I started my first full-time job in accounting. I owe my career to a supportive family and most of all, an amazing partner.
The focus of my career has been financial misconduct and risk management. I have been drawn to roles with a strong public interest bent. I am incredibly fortunate to have been given opportunities to do what I consider to be interesting and meaningful work in large part because I have benefited from the guidance of wonderful mentors; particularly those in the legal profession.
Do you have a favourite memory from being part of SABA?
My favourite memory was helping organize and participate in SABA's Pro Bono Ontario (PBO) Hotline initiative. It was rewarding being able to assist people who may not otherwise have access to legal services. The tools that the PBO Hotline has developed for volunteers make you feel incredibly well supported.
To that end, in March 2022, SABA is conducting a month-long drive to encourage members to volunteer for the PBO Hotline. I urge members to please sign up by clicking here.
What do you like to do during your down time to relax?
I usually unwind by running a marathon or translating ancient Sanskrit texts into Latin. If I don't have time for any of that, I am perfectly happy with a good book or a British detective series on demand and a pint of local craft beer. That first part is a joke…my Latin is not what it once was.
What's your favourite South Asian snack?
Growing up in Singapore, I think my favourite snacks are actually from South East Asia. There's a savoury pastry from that part of the world called a curry puff that I am quite fond of. Then again, because I enjoy food so much, I am not sure whether curry puffs are truly my favourite snack or whether they are just something I am currently craving.
What's something unique that you have learned from practicing law that you can share with other lawyers?
One aspect that I think exists in many professions but is perhaps more pronounced in law is the willingness of lawyers to serve as mentors. As I noted above, I have benefited immensely from mentorship throughout my career. I have generally found people I approach for mentorship and guidance to be very generous with their time and advice.
If I have one piece of advice for young lawyers, it would be to seek out mentorship; formal or otherwise. If you are unable to find mentors at your current employer, organizations like SABA provide plenty of opportunities to meet and learn from senior members of the bar. If your experience is anything like mine, these mentors will provide sage advice in various stages of your career and remain an important part of your life for years to come. Of course, the gift of such guidance comes with an obligation to pay it forward. There is no dearth of opportunities to serve as a mentor if you are so inclined. In addition to mentoring through your workplace and at SABA, I would encourage members to consider serving as a mentor to a newcomer through the Toronto Region Immigrant Employment Council (TRIEC).