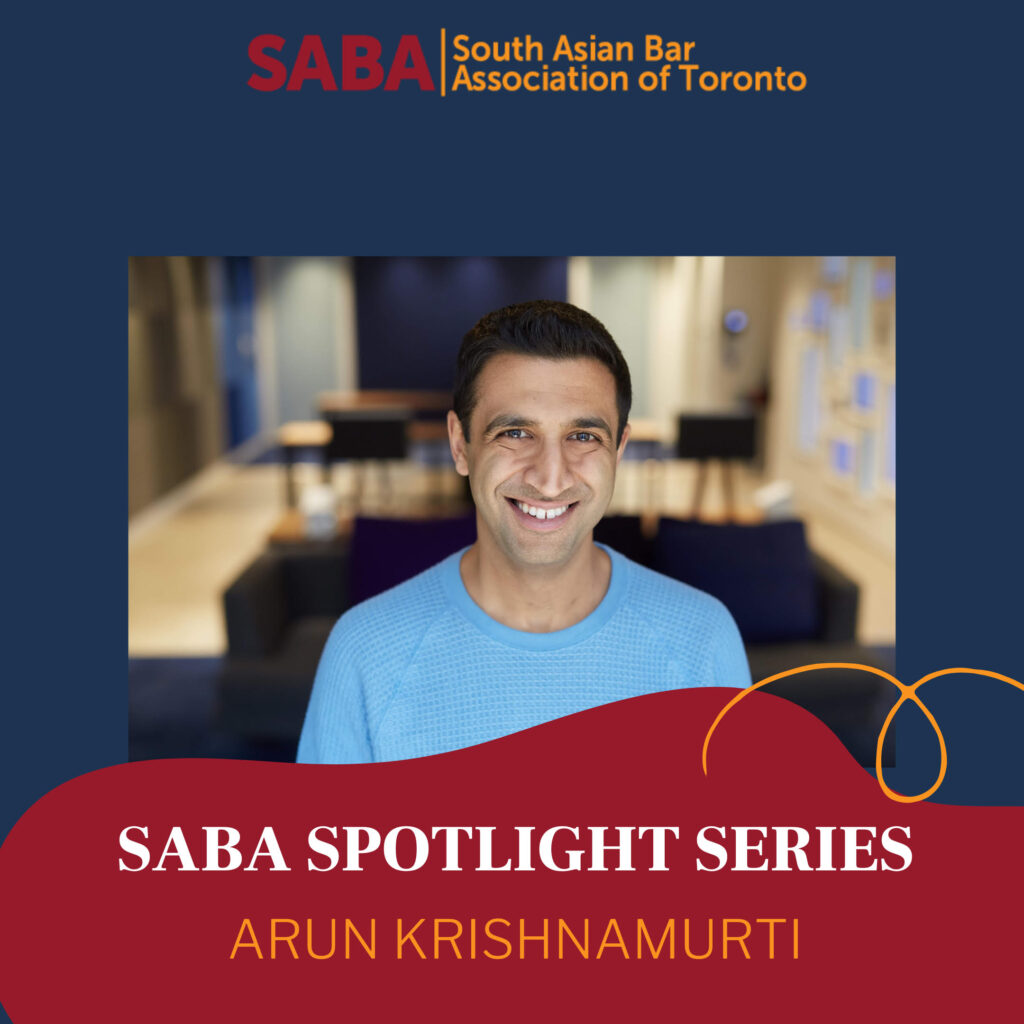 SABA Spotlight Series – Arun Krishnamurti
Arun Krishnamurti is an experienced technology lawyer with a track record of practical, business-oriented legal advice. After having worked at a leading law firm, and now in-house at Google Canada, Arun's well versed in analyzing and responding to complex (and frequently cross-border) legal issues, including product launches, cloud services and other outsourcing agreements, consumer protection and many other commercial and regulatory topics. In addition to SABA, Arun currently sits on the board of Can Tech, and remains actively involved in his communities, taking active roles in mentoring, as well as supporting diversity and equity seeking groups. 
Arun has been named to Lexpert Rising Stars: Leading Lawyers Under 40 and as a Rising Star by the South Asian Bar Association of North America.
What drew you to become a technology lawyer? Did you imagine doing anything else? 
It was something I sort of fell into.  I have always been interested in technology, and when I was an articling student I found myself involved in a couple of deals where I just loved the work. Being involved in ambitious, interesting projects with lofty goals and cutting edge technology really sparked something in me.
What do you enjoy about being part of the SABA board? 
It's a group of such talented people. Lots of passionate, dedicated folks involved.  I loved making these connections, and finding a community of folks I could relate to. For me it was a lot about getting involved with and helping build this community (both the organization, and the broader South Asian bar).
What's your favourite South Asian snack? 
I will forever love gulab jamun.  If I had to go savoury, then murukku.
What do you like to do during your down time to relax?  It's mostly family-focused right now.  Spending time with my kids and friends.  Wherever I can fit in a trip (especially pre-pandemic), travel was always one of my favourite ways to spend free time.

What's something unique you have learned about the practice of law that you can share with other lawyers?
Much of your legal career is based around exposure.  You have to put yourself in as many places as possible to get that "right place, right time" moment.  It can be uncomfortable, but it's the best way to find your path.