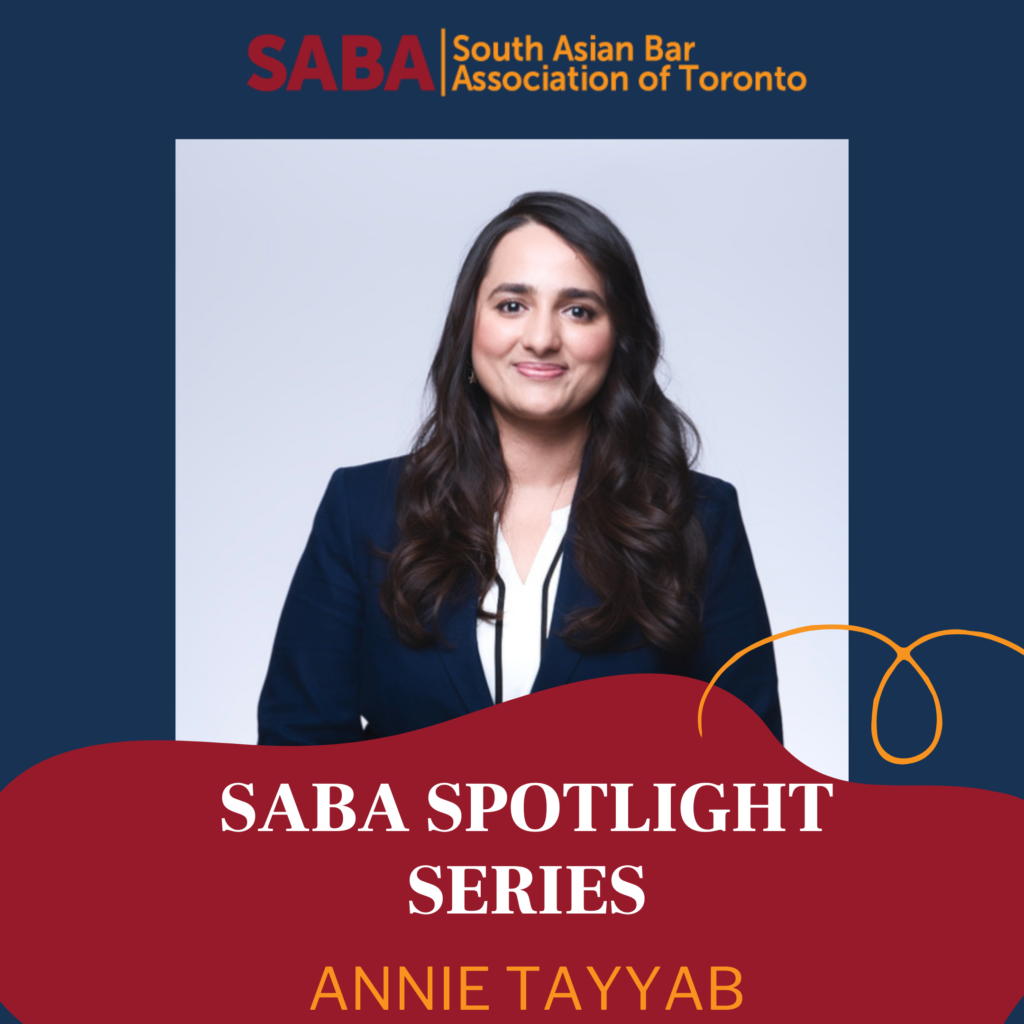 SABA Spotlight Series – Annie Tayyab
Annie is a litigator at Orr Taylor LLP, a commercial and competition litigation boutique in Toronto. She has been litigating for almost 6 years. She specializes in complex high-stakes litigation, including multi-jurisdictional class actions, contractual disputes, competition law, shareholder disputes, and regulatory proceedings. Born in Pakistan, she moved to Canada at the age of 10. She received her undergraduate degree from McGill University and her law and masters degrees from the University of Toronto. In her spare time, Annie volunteers with Pro Bono Ontario and is an active participant in several mentorship programs. In addition to English, she speaks fluent Urdu and is learning French.
1) What initially attracted you to become a lawyer?
Growing up, I always thought I would become a teacher. In high school, I picked up a John Grisham book called The Street Lawyer and that opened my eyes to the idea of being a lawyer. I didn't personally know any lawyers so the thought had simply never crossed my mind. After reading The Street Lawyer, I started researching what it would take to become a lawyer, and I realized that I could do what was necessary to be good at this job. I never looked back.
2) Why did you choose to become a litigation lawyer?
I like the idea of advocating for people; going to court and ensuring that someone's rights are well vindicated appeals to me.
3) What is your favourite memory from being part of SABA?
We recently organized a conference about anti-Black racism and allyship. This was the first time we had hosted a conference, let alone over a short period of time in the middle of a pandemic. We had great attendance. The conference included engaging speakers, a workshop, as well as recorded remarks from the Prime Minister of Canada, the Premier of Ontario and the Mayor of Toronto. The Chief Justice of Ontario was in attendance for part of the day. I was proud to see how well the conference came together. We received great feedback from the attendees and were able to raise money to donate to two community initiatives that focus on building up Black youth. It was an absolute pleasure to work on something like this.
4) In your spare time during the pandemic, what do you enjoy doing?
I've been enjoying spending more time with my husband. Like many, we are thinking of moving out of the city. Home hunting is fun but stressful. We also picked up hiking. I was not a hiker or an outdoor person at all pre-pandemic, but I picked up some hiking boots and we have been exploring Ontario, which has been great. Some of our more fun hiking adventures have been in Killarney and Lion's Head in Bruce Peninsula (which took six hours – my longest hike to date!). We've also been exploring trails in Toronto, which provide a nice escape without having to travel
far.
5) What advice do you have for young advocates?
Being a lawyer is a lot of work. Be prepared for that. To help get through it, find people who will
support you and guide you, whether it's with work-life balance, legal or ethical issues on a file, or something else. Whether you find these people through friends, bar associations, or networking, surrounding yourself with a supportive community really helps.
Written by: Vipal Jain