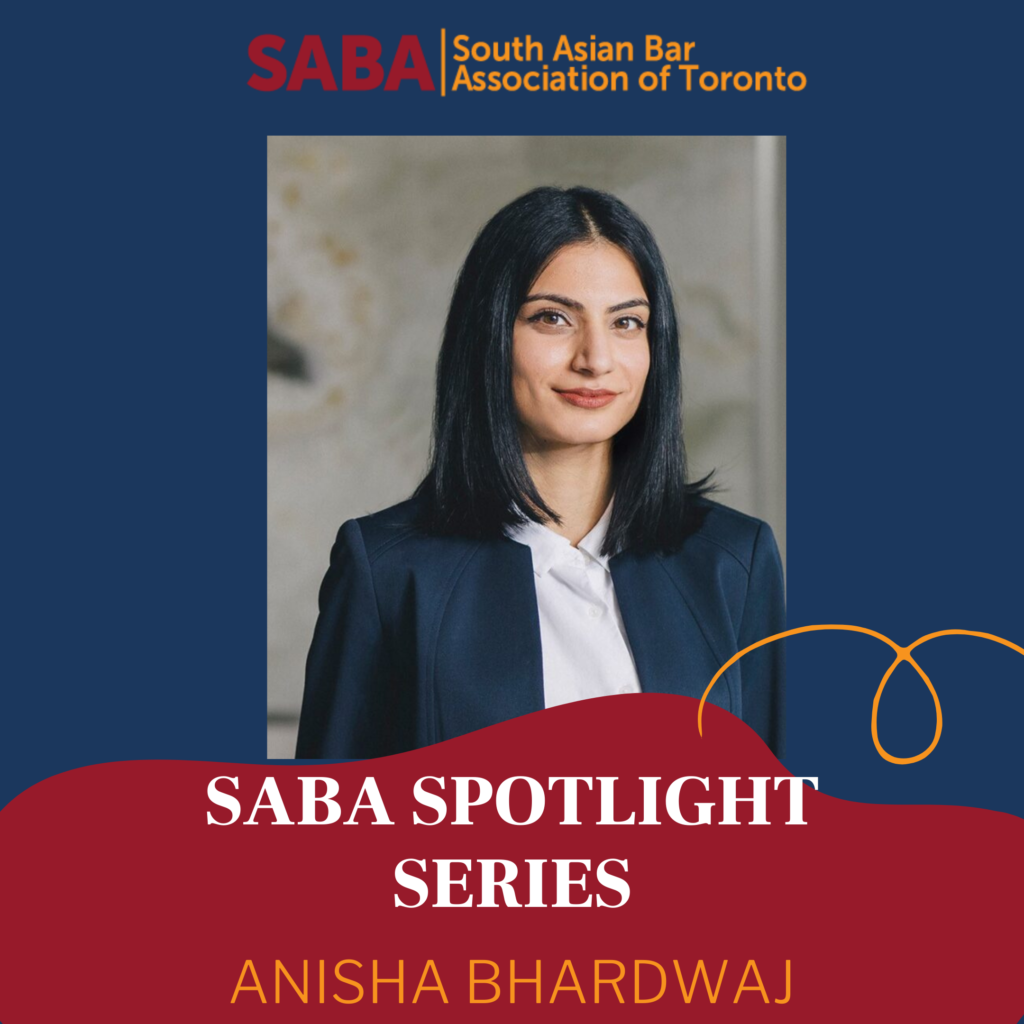 SABA Spotlight Series – Anisha Bhardwaj
Anisha Bhardwaj is a first-generation lawyer born to parents who immigrated from India to Canada. Growing up, Anisha enjoyed watching Bollywood movies on the weekends and emulating Priyanka Chopra's dancing (when her parents were not watching). This eventually led her to compete in Miss India Worldwide Canada. Nowadays, when she is not busy litigating, she enjoys tasting different cuisines from around the world and posting food reviews on her blog (ironically named Judge Foody).
Anisha is an associate in the Litigation and Dispute Resolution group at Aird & Berlis LLP, where she has a general commercial litigation practice and represents clients across a number of industries, such as real estate, commercial leasing, construction, employment and municipal.
1. What drew you to litigation?

Since a very young age, I knew I wanted a career where I could advocate on behalf of my client in a courtroom. I eventually learned about the litigation process and how it actually involves so many other steps that I also enjoy, such as written advocacy (which makes me feel like a creative story writer), negotiating a settlement with the opposing party, and investigating the case. I love the challenge and excitement of the litigation process both inside and outside of the courtroom; it makes me really look forward to waking up every morning knowing that each moment of the day will be unpredictable but challenging and will bring with it an opportunity to help my clients.
2. How did you come to be involved with SABA?
My involvement began during my role as President of the South Asian Law Students' Association (SALSA) at Windsor Law. I worked with SABA to coordinate a mentorship program for lawyers and students that provided an insight into the organization and provided mentorship from SABA members. After I graduated from law school, I volunteered with SABA and then joined the board after being called to the Bar. Having received invaluable mentorship from SABA as a student, I wanted to give back and am now actively involved in coordinating SABA Toronto's mentorship program for lawyers.
3. Do you have a favourite memory from being part of SABA?
I had an incredible time at the 2019 SABA Toronto Gala and Awards Night, which was the last SABA Gala before the pandemic started. It was held at Liberty Grand and roughly 400 people were in attendance (which now sounds like a distant dream given the current pandemic environment). There was live music, great speakers and the food was delicious. It had all the hallmarks of a successful networking event.
4. What's your favourite South Asian snack?
I have a few favourites, but I think that if you put a plate of South Asian snacks in front of me, the Aloo tikki would disappear the fastest.
5. What's the best advice you have received about the practice of law?
"Practice in an area that you enjoy". I feel incredibly fortunate to be doing what I genuinely enjoy. Sometimes it takes time to find the right practice area, but if you persevere and remain committed to the goal, you will eventually get there.