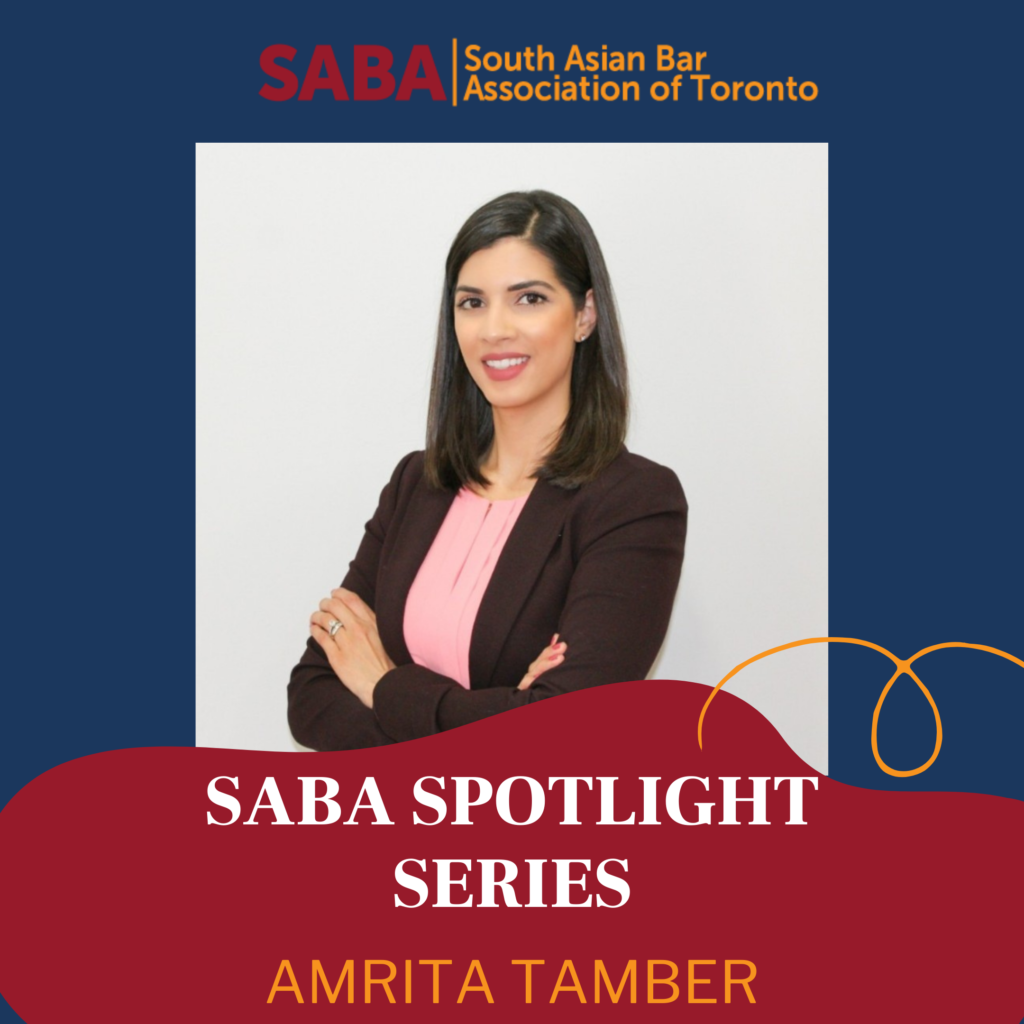 SABA Spotlight Series – Amrita Tamber
By: Vipal Jain, WeirFoulds LLP
Amrita Tamber is a South Asian lawyer of Punjabi background. She has recently joined Purolator as Legal Counsel, where she works on commercial transactional matters. Prior to joining Purolator, Amrita was a Principal Associate at Capital One Bank where she drafted and negotiated complex commercial agreements for the credit card business. Amrita received her Bachelor of Arts (Hons.) from Wilfrid Laurier University in Political Science before attending Bond University where she completed her J.D.

Amrita is a strong advocate for equality and diversity in the legal profession and society at large. Currently, she is co-chair of SABA's Social Media Committee and has more recently joined Can-Tech's Women in Tech Committee as a social media volunteer as she enjoys content creation. Amrita is also a mentor for the NCA Network where she provides support and guidance to internationally trained lawyers. She was also the Director of Communications for Young Women in Law from 2016-2018.
Outside of work, Amrita enjoys various activities such as health and fitness, hiking, traveling and trying new restaurants.

What do you enjoy about your practice?
Growing up, I always had a way with words and loved reading. I could never put my books down and would stay up late at night when I wanted to finish an exciting read. Now, being a contracts lawyer means that I have to be very detail oriented and read between the lines. I enjoy using my business mind and being able to advise on risk and incorporate ways of minimizing risk into contracts. I never deal with the "same" problem and there is always something new, which keeps me on my toes as I always need challenging work. I enjoy negotiating complex terms with opposing lawyers to obtain the best outcome for my company. It is also satisfying when I am able to see the finished product come to life after an agreement has been signed and the business starts the project.

How did you come to be involved with SABA?
I moved around throughout my undergrad, JD and Articling so I was outside Toronto for a very long time. Once I was getting called to the bar in 2015, I learned about SABA and went to the Fall Social. After only one event, I made so many valuable connections that I still have to this date. The community was so friendly and supportive so I started attending more events throughout the years, gaining mentors and friends. Eventually, I applied to become a member of the Board in 2020 as I wanted to give back to the community that had been so supportive over the years.
Do you have a favourite memory from being part of SABA?
I joined the SABA Board in 2020, not knowing that life would take us into a virtual environment. My favourite memory would be a more current one from this past December where some of the Board members were able to get together for an in-person dinner. It was so nice to socialize with the team and I hope that we can have more moments like that in 2022!
What's your favourite South Asian snack? 
My favourite South Asian snack is definitely aloo tikki with channa (potato patty with chickpea curry) and a bit of tamarind chutney on top. It's not something that I have very often anymore, but it reminds me of my childhood. More recently, it's always an appetizer served at weddings that I look forward to!

What are some moments in your career that you are proud of?
Overall, I am proud of myself for being the only first generation post-grad educated professional in my family. I took a big leap going to an international law school. I had always wanted to see the world and live in a beautiful country (can't get any better than Australia) and I was able to experience that while completing my education.
Coming back to Canada, I had gained support from mentors and joined various organizations to help break into the market. Now, I'm proud to be an integral part of various organizations in a leadership role where I can give back to the community.More recently, in only two years I have completely shifted industries from FinTech to transportation and logistics on top of working in a virtual environment. I would say that I am proud of my career leap and pat myself on the shoulder for doing it all remotely!