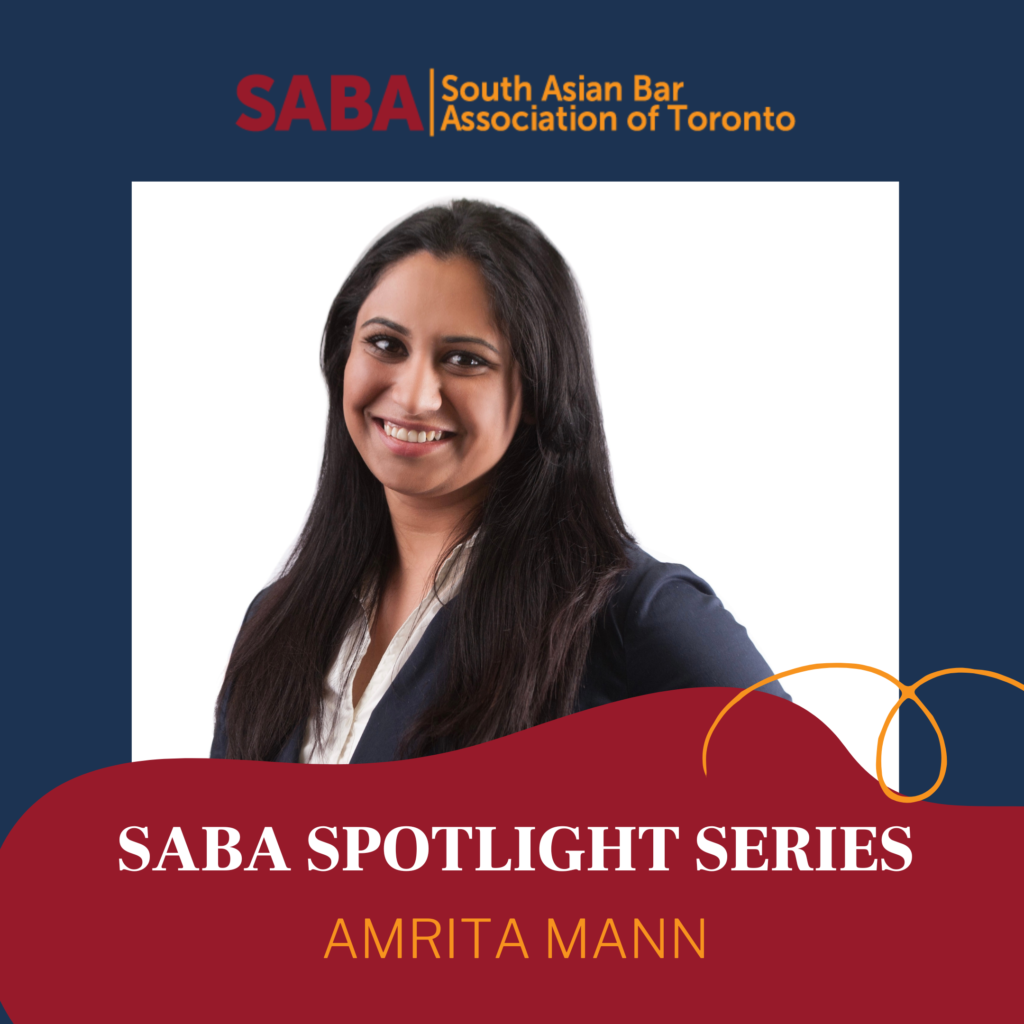 SABA Spotlight Series – Amrita Mann
Amrita Mann is a partner in the Dispute Resolution Group at Simmons da Silva LLP and exclusively practices commercial and civil litigation, with a focus on shareholder disputes, real estate litigation and construction litigation.
Amrita is a second generation Canadian and, although born in Canada, grew up in Punjab, India, where she went to middle school and high school before returning to Canada. Having grown up in India, Amrita is not only fluent in Punjabi and Hindi but also reads and writes both languages flawlessly, which is huge asset to her practice in the Peel region where she represents a number of South Asian businesses, professionals and entrepreneurs.
When she's not busy litigating, Amrita spends her time with her two children (a 2.5 year old and a 5 month old) and her chickens at her farmhouse in Caledon Village. Amrita is an avid fan of Indian music, Bollywood movies and cricket. Interestingly, Amrita was the captain and wicket-keeper of her high school cricket team.  In her spare time, Amrita is passionate about travel and fitness, especially kickboxing.
Amrita joined SABA Toronto as a member in 2013 and the Board of Directors in 2021.
1. What drew you to the legal profession and particularly to litigation?  
On a personal level, I was drawn to litigation because it involves lifelong learning. In order to properly represent a client, I need to understand his or her business, family dynamics, and/or financial situation. I may need to learn the details of a specific transaction, or how a particular machine or process works, or events or strategy behind a particular decision, in order to be able to explain it later to a judge or jury. In some ways, it's like staying in school (which I enjoyed) but being paid for it. The diverse nature of my litigation practice constantly keeps me on my toes.
2. Who are some people who have helped guide you in your career?
My mother taught me by example that hard work can never be replaced. She fought every imaginable odd during very tough times to find a way to raise me and my two siblings and to make sure we received the best education available. She knew what she wanted, and that was to ensure that her children got every opportunity possible. So I have always been determined not to let her down and to always be looking to do more. Staying hungry is my mission.
3. If you weren't a lawyer, what would you be?
Either a politician at the regional/municipal level or a lobbyist with a grassroots movement or organization.
4. What's your favourite memory from being part of the SABA board?
Its difficult to pick one. The galas are always fun and filled with many great memories. On a personal level, on behalf of SABA I helped with organizing a Diwali and a Gurpurab food drive in partnership with the Seva Food Bank last year where volunteers from both organizations attended at local grocery stores in the Brampton and Mississauga area and encouraged customers to donate food items to those experiencing or at risk of poverty. It was extremely humbling yet rewarding to be able to serve and  partake in the mission to provide equitable access to safe, nutritious and culturally appropriate food to people in need.
5. What's your favourite South Asian snack? 
I have a few favorites but I can never resist a plate of chaat papri.
6. What's the best advice you have received?
Listen more than you speak. We have two ears and one mouth for a reason. The most successful litigators are not always the loudest or the most boisterous; they are the most curious, the most detail-oriented, the best prepared, and the most willing to outwork the opposing side.