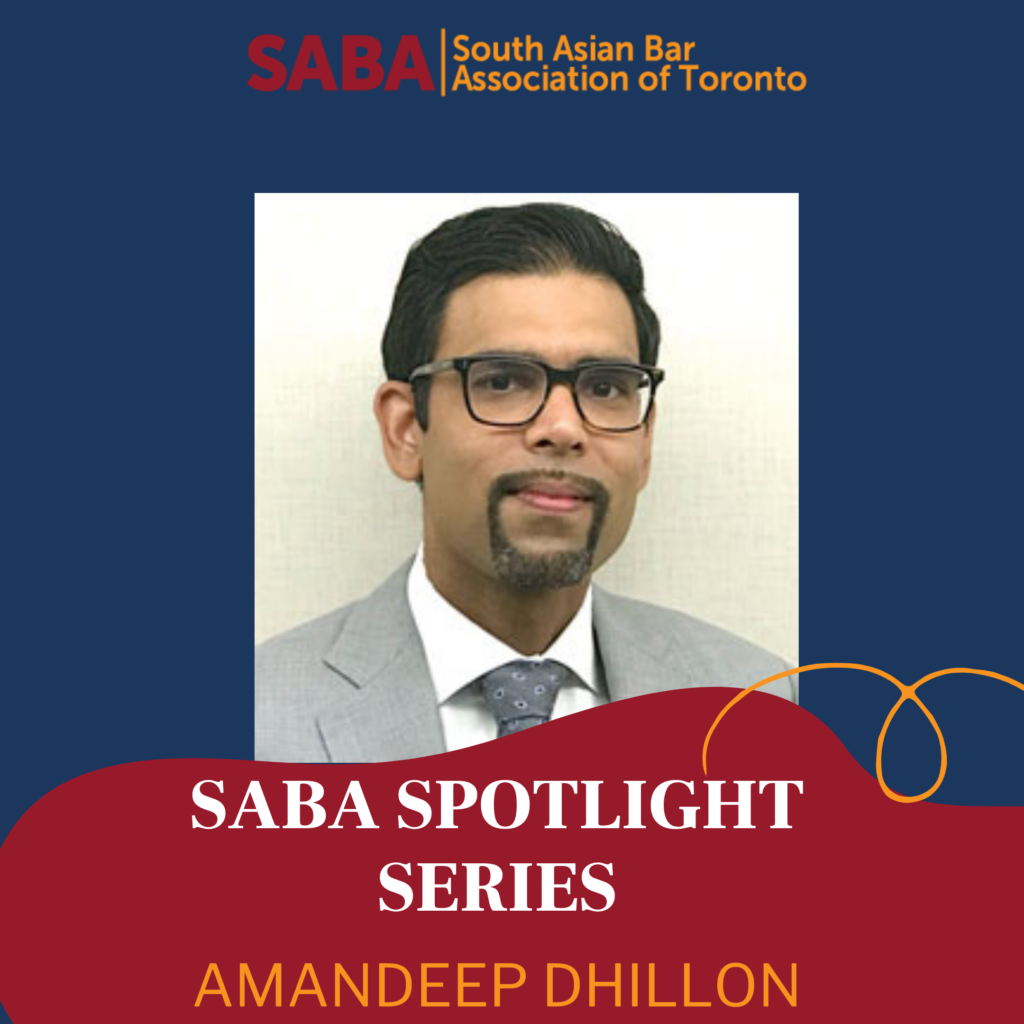 Amandeep Dhillon is a litigator of Punjabi background. His parents moved to Canada from Punjab, India. Amandeep specializes in the area of civil and corporate/commercial litigation. He co-founded Kramer Simaan Dhillon LLP, a litigation boutique with six lawyers practicing in contract, shareholder, construction, real estate and defamation disputes.

This year marks Amandeep's fourth year with the SABA board. When not in court for his client, Amandeep can be found on the basketball court or on the running path.
1) Is your current career path what you originally intended?
Yes and no. As a young boy, before I decided to go to law school, I wanted to be a sports broadcaster (Suneel Joshi without the moustache). When I started law school, I thought I was going to be a criminal lawyer. I never thought I would end up at my own firm, practicing civil and commercial litigation. However, I have enjoyed every single minute of my career – both the litigation side and the business side that comes with running my own firm (with my partner). The variety of matters I am retained for keeps me engaged and I find myself continuously learning and growing.
2) What are some moments in your career that you are proud of?
I really enjoy trial work. It is a lot of work and can be exhausting, but the opportunity to advocate, cross-examine, to challenge, to persuade, gets the adrenaline going. I find the process of creating a story to tell the trier of fact most engaging – you have to combine legal skills with a host of other skills good litigators have to possess such cultural competency and emotional intelligence to weave together a persuasive version of the facts.
The one trial that sticks out for me was a 2016 multi-week trial, where I represented a civil sexual assault victim. We were successful in getting (at that time) one of the largest judgments granted for the type and nature of assault my client was a victim of. My client waited more than 16 years to have her day in Court, and the depth and intensity of emotion, relief and vindication she felt and expressed after finding out she had won at trial, was not lost on me. It reinforced the value and importance of the work we do for many of our clients.
3) What's your favorite memory from being part of SABA?
Chairing the awards committee for the annual SABA gala the last few years. I am impressed with the quality and depth of talented South Asian legal professionals – whether that be in private practice, government, academia, or outside the legal profession. It has always been a challenge to select the annual winners of the legal excellence award. I have enjoyed reviewing the applications, reaching out to the winners and working with them as we approach the gala. It is always inspiring to read the applications and I feel a real sense of pride in our community.
Further, and in general, I have really enjoyed working with a great group of smart, intelligent lawyers who are committed to improving the quantity and quality of opportunities for South Asian lawyers in the legal profession (whether that be getting appointed to the bench, private practice placements, or public appointments), and their professional development (through various professional development programs).
However, I am mostly proud of SABA for being a voice that speaks out against social injustice and inequality, whether that be provincially, nationally, or globally.

4) Who are some people who have helped guide you in your career?
Obviously my wife, Sonu Dhanju-Dhillon, who is also a commercial litigator, at Torkin
Manes. She is awesome at business development and has, on more than one occasion, nudged me in the right direction to facilitate the growth of the business side of my practice. As we both have similar practices, we often, and almost daily, are bouncing ideas and strategy off each other. She is not shy to challenge me on case strategies and theories. I have also been fortunate over the years to have a network of senior lawyers I could reach out to, to pick their brains, bounce ideas off of, learn from, and talk legal approach and strategy with. I am most fortunate to have my friend, Michael Simaan, as my partner. Michael is sharp, ethical and creative and always ready to discuss case strategies and legal issues at any time.
5) What was the best advice you received about the practice of law?
a) Have a growth mindset – whether that be networking to grow your practice and/or to open up new opportunities, or jumping into a file, taking CPDs or finding a mentor to expand and develop your skill set and to gain experience.
b) Learn to write. Cases can be won or lost, minds made up or changed, and impressions formed, before you walk into court and get to open your mouth, based on your written submissions. As an advocate, it is imperative that you are able to convey your position in writing in a concise, clear manner, and in as few words as possible, while painting the picture you want to paint to the party you're trying to convince (judge, mediator, arbitrator). It is a skill that takes time, effort and patience.
Written by: Vipal Jain