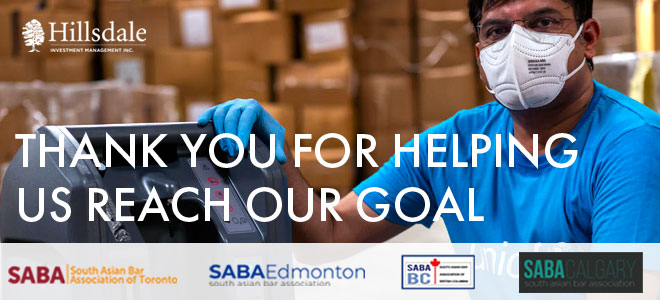 A huge thank you to those who donated through the SABA & Hillsdale Help India fundraiser for UNICEF India. We have now surpassed our goal and raised more than $36,000! Your generosity has made a difference: over the last month, a total of 16630 oxygen concentrators; 15961 oxygen cylinders; 19 oxygen generation plants; 11516 ventilators/Bi PAP; and about 6.9 L of Remdesivir vials have been delivered/dispatched.
SABA would also like to thank Hillsdale for matching donations up to $15,000! We and UNICEF India appreciate the support.
This is also your last chance to donate to the SABA North America fundraiser!
SABA Toronto is also proud to have partnered with SABA North America and various SABA chapters throughout Canada and the United States to raise additional funds through the end
 of May. All individual donations we receive at 
this link
: https://www.sabalegalfdn.org/indian-covid-relief through 
May 31, 2021
 will be used to support reputable charitable organizations fighting COVID in India.