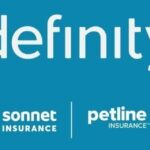 Website Definity
Definity is the parent company of Economical Insurance.
Definity includes some of Canada's most long-standing and innovative insurance brands, including Economical Insurance, Sonnet Insurance, Family Insurance Solutions, and Petline Insurance. With strong roots that date back to 1871, we've grown to become a digital leader in the insurance industry. We're proud to help our clients and communities adapt and thrive in a world of constant change.
Our promise to you: It's better here. Why? Because we CARE, and we provide an employee experience that's collaborative, ambitious, rewarding, and empowering.
Our ambition is to be one of Canada's leading and most innovative P&C insurers. Come be a part of our journey, and love what you do.
Starting in September, Definity employees move to a hybrid work model so we can collaborate, build mentoring relationships, and solve complex or cross-functional business opportunities together. Our teams work in whichever environment best supports what they're working on and who they're working with. We're actively reinventing our offices as welcoming workspaces that optimize collaboration and empower leaders to use our space to strengthen team dynamics. Our tools and processes seamlessly connect employees from multiple locations, and our culture encourages respectful engagement and flexibility. Leaders work with their teams to determine the right balance of on-site and remote work that best meets the needs of their team, cross-functional engagement, responsibilities and timelines, plus those of our customers, our broker partners, and the company culture.
What can you expect in this role?
Act in Accident Benefits litigation from inception through to hearing
Prepare written materials, appear at the LAT and form case strategy
Conduct private arbitrations in priority and loss transfer disputes
Play an advisory role to the Claims department in relation to accident benefits litigation generally
What do you bring to the role?
2+ years of post-call experience in Accident Benefits litigation
Experience with LAT Hearings
Experience with priority and loss transfer disputes
High degree of personal ethics, integrity and responsibility
Assertiveness in practice, but reasonable and forthright
Interest in court, arbitration and tribunal advocacy
Sound judgment, with the ability to critically analyze situations and problem-solve
Ability to meet deadlines and handle multiple, yet sometimes conflicting priorities
We also take potential into consideration. If you don't have this exact experience, but you know you have what it takes, be sure to give us more insight through your application and cover letter.
Go ahead and expect a lot — you deserve it, and we've got it:
Hybrid work schedule for most roles
Company share ownership program
Pension and savings programs, with company-matched RRSP contributions
Paid volunteer days and company matching on charitable donations
Educational resources, tuition assistance, and paid time off to study for exams
Focus on inclusion with employee groups, support for gender affirmation surgery, access to BIPOC counsellors, access to programs for working parents
Wellness and recognition programs
Discounts on products and services
Our inclusive work environment welcomes diversity and supports accessibility. If you require accommodation at any time during the recruitment process, please let us know by contacting: hrsharedservices@economical.com
Background checks
This role requires successful clearance of a background check (including criminal checks and leadership references).